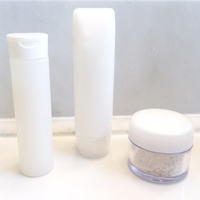 For the latest installment in my Joy of One series, I'd like to talk about cosmetics, bath items, personal care products, and the like. Though disposable in nature, we often don't dispose of them—opting to buy a new color or scent or formulation before we've used up our old ones. Oftentimes we get them for free from cosmetic counters and hotels (those tiny toiletries are super-cute and hard to resist). They accumulate in our drawers and cabinets, and on our countertops and shelves, and can lead to a real clutter problem. So even though we may not consider them "possessions," they're certainly worth discussion.
Interestingly, when I broach this topic with family and friends, some find One Shampoo or One Lipstick or One Nail Polish ridiculous, and others find it ridiculously easy. I'm really looking forward to your Comments on this, as I expect they'll reflect a wide range of experiences and opinions.
For my part, there was a time when I would have laughed at the notion of limiting my bath and beauty products to one of each. Variety is the spice of life, right? But then I started to travel, and in the interest of packing lightly, did precisely that on my trips. And you know what? Instead of feeling deprived, I actually liked not having to make decisions every morning on which products to use. I liked having a single cleanser or a signature lipstick that I never had to think about. It seemed to make my life a little easier, my mind a little clearer, and my mornings (and evenings) a little smoother.
So I narrowed down my everyday products to the following: one soap, one shampoo, one face cleanser, one toothpaste, and one moisturizer with sunscreen. For cosmetics, I have one mineral powder, one concealer, one lipstick, one blush, and one eyeshadow (the latter two for more formal and professional occasions).
I found streamlining my beauty supplies helpful from the start, but it was after my daughter was born that I experienced the true Joy of One in this area. The ability to fly through my morning routine when I had an infant who needed to be fed, then a toddler tearing through the house, and now a preschooler to get ready for school, has been invaluable. (And when you're using your One Lipstick, there's no chance of your little one commandeering another to decorate herself or the walls!)
It seems trivial, but those hundreds of little decisions we make every day—like what moisturizer or makeup to use—can add up to some serious decision fatigue. Conversely, the less energy we expend on trivial matters, the more we have for important ones.
Sure, sometimes I need a change or want to try something new—but I usually wait until I use up my old one. If I'm truly unhappy with it, or it's nearing the end of its shelf life, I'll dispose of it. In fact, the limited shelf life of many beauty products provides ample opportunity for turnover. Liquids and creams—especially those worn on or around the eyes—have a lifespan of three to six months, while powdered foundation, concealer, blush, and lipstick generally last for a year. So don't fret too much about getting bored with your selection; in a matter of months, you can replace your current One with a new One anyway.
Truth be told, many of you will surpass me on this and achieve the Joy of None. I absolutely love and admire and celebrate anyone who can go shampoo- or makeup-free. I wish I could do it. I want to do it. I will do it someday. But I'm not there yet. (My nails have been bare for years; that's a step in the right direction, huh?) So the Joy of One is a nice compromise—my personal "enough" between many and none. For me, at this time, it's lagom.
And you may find it lagom, too. If you're intrigued by the Joy of One concept, but find One Coat or One Shoe or One Pan too extreme, this could be a wonderful place to test the waters. For each beauty product, choose your favorite and clear your shelves of the rest. Give it a week, or a month, or longer and see what it's like to have One. When you experience the extra space it brings to your counters, your schedule, and your mind—and the ease with which it was achieved—you may be inspired to experiment with One in other parts of your life!
I'd love to know what you think of this challenge: easy, hard, something you already do? Are you one of those amazing Joy of None people? Do tell!
{If you'd like to learn more about minimalist living, please consider joining my email list or reading my book, The Joy of Less, A Minimalist Living Guide. Pre-order the new edition before April 26, and receive a thank-you bouquet of one dozen decluttering printables!}