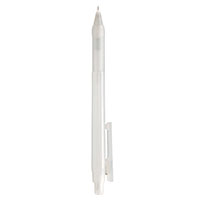 I have long been enamored with the concept of One.
How lovely would it be to have One coat you could wear all year? One pair of shoes that worked with every outfit? One bag that filled all your needs? One pen, One pan, One sauce pot, One spatula, One lipstick of the perfect shade.
Ahhh…..for me, that's minimalist heaven. It's the culmination of all the decluttering I've been doing, and minsumerism I've been practicing, for the past decade.
One is restrained. One is elegant. One is beautiful.
I talk a lot about Limits in my book, The Joy of Less: like limiting our shirts or books or towels or plates to a certain number or certain space. Well, One is taking the concept of Limits to the extreme. It's not for the faint of heart, and requires some willingness to live on the edge—after all, you might be in a bit of a bind if you leave your One coat behind in a restaurant or misplace your One pen.
So if you're not living out of a backpack, why go to such extremes? Why own just One of an item, when you have plenty of room for two, or three, or ten?
For the same reasons you might train for a marathon or go on a meditation retreat. When we voluntarily undertake a difficult challenge—especially one that pushes the bounds of our abilities or comfort levels—it's a wonderful opportunity for personal growth and discovery. It's an opportunity to build our self-discipline and bolster our confidence. Plus, it's fun! (Why else do it, right?)
The challenge of One rewards us with a new sense of mindfulness with respect to our possessions. It teaches us to evaluate our needs and wants, and makes us keenly aware of the value and versatility of the things we own.
It also brings us joy and satisfaction when we realize how little we really need. No longer are we dependent on variety for happiness, backups for security, or stuff for our sense of worth. We learn to trust in our decision-making and our ability to deal with situations as they arise. We distance ourselves from consumerism and exercise our creativity and ingenuity.
Furthermore, One eliminates decision fatigue and frees up our mental energy for more worthwhile pursuits. Why waste time and attention on choice for the sake of choice—when one variation of an item has no greater benefit than another?
In fact, you may already be practicing One without realizing it. For example: if you have eight pairs of jeans, but always wear your favorite; if you have a jar of wooden spoons, but always reach for the same one; if you carry the same bag every day despite the stash in your closet. Why not stow the extras away for awhile and see if you miss them? If not, you can eventually declutter them, create some space, and streamline your daily routine.
Finally, One is a sigh of relief in a society of excess. I'm tired of being sold the idea of having sweaters in every conceivable color and enough footwear for an army. I don't want to have saucepans in every size or purses to match every outfit. I worry that fast fashion and rampant consumerism are harming the environment and peoples' lives for the sake of profit.
One is a way of stepping off the work-and-spend treadmill, reducing our carbon footprint, and minimizing the impact of our consumption. The fewer things you own, the more deliberately you select them and more carefully you treat them. I want to set this example for my daughter, so she doesn't grow up thinking that more is better or that stuff is the measure of success.
Therefore, I'm going to make this the year of One, and see how I can get by with a single item of certain things (my recent cross-country move gave me a great head start on this).
Now, don't get nervous—I'm certainly not advocating everyone do this! It's just something that intrigues me, and I thought I'd share my experience with you. As a writer on minimalist living, it's my job to push the bounds and report my findings; I hope you'll find the series thought-provoking, or at the least, a little entertaining.
I look forward to your comments and questions as I tackle such challenges as wearing One pair of shoes and One coat for the next year (posts coming soon…). And I welcome your suggestions for other possessions I can pare down to One!
{If you'd like to learn more about minimalist living, please consider reading my book, The Joy of Less, A Minimalist Living Guide, or subscribing to my RSS feed.}