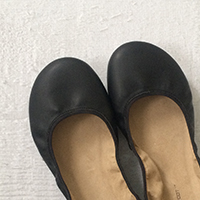 I feel a little guilty that last week's One Coat challenge was so easy. It was a good warm up, though, and I hope it inspired some of you that yes, it can be done! We often discover on our minimalist journey that what might seem daunting or pointless at first can actually be quite doable and gratifying.
But still—a bit of a struggle makes for a more interesting blog post, doesn't it?
Well, I have that struggle for you today, as I tackle what might be the most difficult item to reduce to One: shoes.
Now, I'm no Carrie Bradshaw when it comes to footwear; beyond looking presentable and feeling comfortable, I have little interest in what's on my feet. And I can't help but think that as long as I'm wearing shoes, nobody else cares about them either. Again, maybe that's just another perk of living in the PNW; I might feel differently if I were walking the streets of Paris each day.
Furthermore, as a long-time minimalist, it feels excessive to me to own even half a dozen pairs. That's how many I had when I lived overseas, and since then, I've managed to scale that down further. So, to be fair, I've started this challenge with a pretty good head start. But still…from a purely logistical point of view, this is hard.
I thought of all sorts of reasons not to attempt this particular challenge: it's not healthy for my feet, it's not healthy for my shoes, I have a formal event coming up, I might get bored, I'm bound to look unfashionable or inappropriate at some point. Or even worse: some mishap may ruin them and I'll really be up the creek.
But did that stop me? Of course not. :)
As with my One Coat, I've been working on the One Shoe challenge since May. (Moving was a great excuse to say goodbye to some shabby shoes.) I knew I'd be walking A LOT in my new hometown, so durability and comfort were key. In the past, I'd always relied on Merrell for walking shoes; but while I like the support they provide, I wanted something a little less sporty.
My husband suggested "barefoot shoes." I laughed, thinking he meant the kind with articulated toes that bear a striking resemblance to ape feet. But as it turns out, they're also available in normal-looking styles (the "barefoot" refers to the minimal structure and support). I found a nice little ballet flat online, and decided to give it a try.
Since Plumblossom didn't start preschool until September, the two of us spent the summer exploring our new city (she in the stroller, me pushing for miles and miles and miles). I worried that after a long day of walking in barefoot shoes, I'd be hobbling around each night in pain—especially since my feet were used to much more support. But lo and behold, after a few days of adjustment (ie. getting accustomed to feeling the sidewalk through my soles), they were wonderful. I never rubbed a blister or suffered from foot aches or pains. Color me surprised!
For an everyday shoe, then, I was set. The ballet style works with my entire wardrobe, so I was able to wear them all summer and into fall.
So far, so good. But now let's talk about some potential minefields and pitfalls of the One Shoe life.
Work. Will your One Shoe work for work? For me it does, because I work from home (literally barefoot). But even when I worked in an office, the environment was casual enough for a ballet flat. Obviously, this is entirely dependent on your work situation, and may result in your needing One Work Shoe.
Formal events. Sofia Coppola is my inspiration here—if she could wear ballet flats to the Oscars, I can surely wear them to our school's fundraising gala. Right? I'd love your opinions here. I'm 5'7", so I don't need the extra height. But can flats really work with a little black dress?
Athletics. In the past, a hiking shoe was a must-have for me. But at the moment, hiking is no longer one of our primary activities; Plumblossom has grown out of the backpack carrier, but doesn't have the stamina to walk long distances. For now we have more fun walking the trails in our local parks. That said, I'll likely need to revisit this issue in the future, and I do encourage anyone who engages in specific athletic and/or outdoor activities to have the appropriate One (Hiking/Running/Whatever) Shoe for that purpose.
Weather. This is the factor that's really tripped me up. I was cruising along just fine in my One Shoe, congratulating myself on my minimalist magnificence—then November came, and it started to rain. And rain. And rain. And rain. I don't really mind wet feet (and have braved many a soggy day in them), but am concerned with the toll such weather is taking on my shoes. If it doesn't stop raining so much, I can't imagine they're going to make it through the year.
And so I will confess here: during the worst deluges, I broke out the rainboots. Sigh. I didn't really have to, but I wasn't quite ready to ruin my wonderful shoes.
So, to summarize: I believe I can make it through the year with just One Shoe—but because of my climate, I may need to supplement occasionally with One Rainboot. Alternatively, I can purchase another pair of my One Shoe, and save the shabbier pair for messy weather. I'm not sure which solution is more in keeping with the spirit of this effort.
So that's where I stand on the One Shoe Challenge. It's certainly more doable than I expected, but would take an I-don't-mind-ruining-my-shoes-in-bad-weather mindset to perfect it. I intend to keep it up for the next year (at least), wearing these shoes on all but the wettest of days.
Some of you may be wondering, why is this woman doing such a crazy thing to begin with? To see if it can be done. To give you a heads-up on what to expect if you attempt the same. To let you be an armchair minimalist while I get wet feet or look less-than-fashionable. To push the boundaries, and make us aware of what we own and consume—so that even if One Shoe isn't in the cards, it doesn't seem so crazy to have One Sneaker or One Stiletto or One Snowboot.
Minimalism is my work, my art, my public service—and yes, my chance to rebel against the status quo and have a little fun. I'm not suggesting One Shoe is right for everyone (or anyone). I take it to an extreme so that you can follow along and find your own balance.
I look forward to your Comments, and can't wait to hear what you think of this challenge!
{If you'd like to learn more about minimalist living, please consider reading my book, The Joy of Less, A Minimalist Living Guide, or joining my email list.}