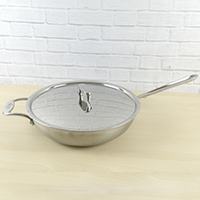 My husband and I have had a pretty nomadic life together, and since we were always on the move, we never invested in quality cookware. Pots and pans are heavy and awkward to transport, so we would usually pick them up randomly as needed, then donate the lot before moving on and starting over again.
Well, we're hoping to stay in our current location for the long haul, so when it comes to kitchenware, it's time for a change in strategy. And that's part of the motivation behind my One series: I'm ready to choose quality, versatile items that'll last forever, instead of a mishmash of "temporary" things that sort of get the job done.
Furthermore, when it comes to cookware, few things stress me out more than a cabinet with a clanging, haphazard pile of pots and pans. That's why I could never buy pots and pans in sets—it would drive me mad to rustle through a multitude of pieces to find the one I'm looking for. I would much rather open a cabinet and see a few carefully-chosen items sitting peacefully in their spots, without competing for elbow room with a dozen others. To me, that makes for a more serene kitchen than having a pan in every shape and size.
The combination of our cross-country move and an induction cooktop in our new house has given me an opportunity to start over again with respect to cookware. I've been researching various options, tracking our meals (and what we use to prepare them), and engaging any willing parties in conversation about their favorite pots and pans.
For my family of three, I find a large pan essential for our needs—but I didn't want to own both a frying pan (shallow with curved sides) and sauté pan (deeper with straight sides). Fortunately, I found a brilliant compromise: a deep, multipurpose stainless steel pan with sloping sides and a lid. It can be used to sear, sauté, stew, stir fry, brown, braise, and reduce sauces. The higher sides keep liquids in, yet still allow for tossing on the stovetop. (For those who want to know, it's called a "weeknight pan" by the company that makes it.) It can even go in the oven.
As if that's not versatile enough, it can also be used to make one pan pasta. Like Toni, one of my Commenters last week, I discovered this on the internet and was intrigued by the simplicity (and minimal cleanup) of this technique. You simply put the pasta, olive oil, vegetables, herbs, etc. in the pan, cover it with water, and stir frequently for about 9 minutes while the water evaporates. (No need to lug 8 quarts of hot water across the kitchen to dump in a colander!) I started experimenting about a month ago with this One Pan Lemon Garlic Pasta, and it's become one of my family's favorites (I replace half the butter with a drizzle of olive oil for a less creamy sauce). I look forward to expanding my repertoire of these one pan dishes, as they're perfect for busy weeknights. (So if you have a favorite, please tell me about it in the Comments!)
We've been using this One Pan exclusively for two months now, and so far it's covered all our needs. However, I should point out that we're not big egg eaters (my daughter will only eat them in hard-boiled form). If you like yours fried, scrambled, or as an omelette, you might need a small cast iron skillet. (I've read that with the right temperature and enough fat, you can cook eggs in stainless steel without sticking, but I haven't tried it myself.)
So this has been a pretty easy Joy of One challenge—see, they're not all as crazy as One Shoe. ;-) And I have to say, I'm just enjoying this series so much. I thank you all for your wonderful comments on my Simpler Kitchen post—so many great ideas and resources. I loved hearing how your grandmothers used their hands or favorite teacups to measure, and I'm totally inspired to make hummus with a mortar and pestle (as Bette pointed out, it's been made for centuries without a food processor!).
I'd love to hear your thoughts on having One Pan. Would that work for you, or do you have reason to own more?
{If you'd like to learn more about minimalist living, please consider reading my book, The Joy of Less, A Minimalist Living Guide, or joining my email list.}