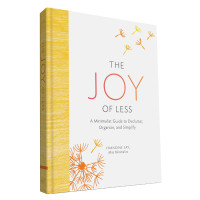 In 2010, I self-published a book called The Joy of Less. I had no advertising budget, no bookstore placement, and an aversion to marketing–but by some miracle it went on to sell 75,000+ copies simply by word-of-mouth. I've recently partnered with Chronicle Books to release a revised edition with new content; and I'm thrilled to say it's now available in bookstores everywhere! :)
You can also buy it online at Amazon, Barnes & Noble, Powell's Books, Target, Walmart, IndieBound, Amazon UK, Amazon Canada, and The Book Depository (free delivery worldwide).
In a nutshell, The Joy of Less makes decluttering easy, enjoyable, and empowering. Really! My readers often tell me that they've put down my book in the middle of a chapter to clear out a closet or kitchen cabinet. Instead of finding it a chore, they become truly excited about decluttering. And many find that once they let go of the excess, the results are life-changing.
Here's what you'll find in the book:
an inspirational pep talk on the rewards of paring down
the STREAMLINE method: ten easy steps to achieve (and maintain) a clutter-free home
a Room by Room guide to more space and serenity
a family-focused program to help children and partners (even reluctant ones!) declutter
a look at how living lightly can help save the planet
I'm also just over the moon that the book will be translated into 17 languages (and counting)! I'm making an international bookshelf here, and will add foreign editions as they're released:
From left: Portuguese (Brazil), Spanish, Dutch, Polish
.