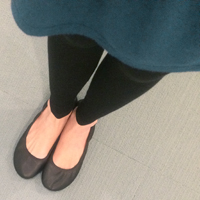 For a few years now, I've been inching closer and closer towards a uniform. I've experimented with styles, and pondered the versatility of various tops, bottoms, dresses, etc. I've pared down to One Shoe, One Coat, and One Handbag.
Well, as of late, I've taken another leap forward in this initiative—I believe I am down to One Bottom. To be honest, this happened by accident; one of the unintended consequences of my Eating Less experiment is that most of my clothes no longer fit. And just when I nailed down a great capsule wardrobe—argh!
Pants (trousers for my UK readers) have been a particular problem. While a slightly-large top can still be wearable, saggy baggy bottoms just look bad. For that reason, I've grown quite fond of leggings; they're the only bottoms that have stayed with me through thick(er) and thin.
I've worn black leggings every day for the last five months. (They've even replaced my beloved yoga pants.) I think that qualifies as a uniform, yes?
They're actually ideal for my rainy climate; I can't believe it took me three years to discover this. Every winter, I've struggled with pants; they drag through puddles and look weird with my boots. My leggings, on the other hand, work perfectly well with both boots and ballet flats.
I also like how they don't have zippers, buttons, or belt loops that cause weird lumps and bumps under my tops. It makes for a smoother, sleeker silhouette.
Let's see, what else…. They don't wrinkle, they pack like a dream, they don't need hemming, and they let me wear cute mini dresses without baring too much leg. :) They're so comfortable, I even wear them to bed.
What started out as laziness (I didn't feel like shopping for new pants) has grown into a full-blown leggings love affair.
And really, I should have remembered this. I've come full circle back to my UK days, when I wore a dress with leggings or tights every day (like in this post from 2011). I'm not sure why I expanded my wardrobe when I stopped living out of a suitcase, but I'm excited to re-adopt the uniform of my nomadic years.
Of course, leggings require a top that covers your bum, but that's perfectly in line with my uniform goals. On that note, if anyone can recommend some lovely tunic tops or short dresses, please share. I see leggings worn with a lot of loose and flowy shirts, but I'd love to find something more fitted.
I'm not sure where leggings puts me on the fashionista spectrum—probably clear off of it. But Audrey Hepburn (my fave style icon) wore them fabulously in Funny Face, and I've pinned some other chic outfits to my Pinterest board. I'm curious: do any of you swear by leggings, for fashion, comfort, minimalism, or other reasons?
In fact, let's open up this discussion to all things uniform: let us know in the Comments if you have a favorite style (bottom, top, dress, etc) that you could (or do) wear everyday!