I have some exciting news to share with you today!
As many of you know, I self-published my book, The Joy of Less. Back in the day, there wasn't a lot of mainstream interest in minimalist living, and it was the most expedient way to get my book into your hands. Thank you for reading it, and spreading the word to your friends and families! We all know I'm not much of a marketer, and I'm eternally grateful to all of you for making it a success.
Self-publishing was a wonderful and empowering experience, save for one drawback: while you could buy The Joy of Less from Amazon, or check it out at your local library, it was never available in bookstores. I haven't been able to reach those would-be minimalists browsing the local shelves for inspiration or decluttering tips. I haven't been able to share the STREAMLINE method with them, or the lightness and freedom that comes with finding your "enough." To a large portion of the book-reading public, The Joy of Less simply didn't exist.
Well, that's about to change! I'm partnering with Chronicle Books to release a revised edition of The Joy of Less this spring. We've been working hard over the last few months to streamline the text, add new content, and design a beautiful new volume that can stand proudly on bookstore shelves: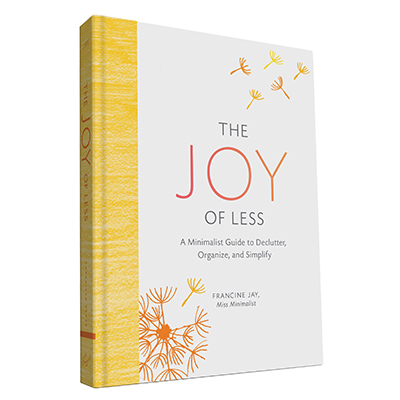 With my self-published book, I did the best I could with the resources I had—and it wasn't too shabby. ;-) But goodness, I had no idea what a difference a professional editorial and design team makes! I'm beyond thrilled with the new edition—it really is so much better than I could do on my own.
Furthermore, my perspective has changed in the last few years. I've gone from being a carefree world-traveler to a homeowner and mother, and know first-hand the challenges of getting partners and children on board the decluttering bandwagon. I've written a brand-new chapter called The Clutter-Free Family, in which I outline an action plan that works for households of all sizes—in essence, a family-friendly power boost for the STREAMLINE techniques.
I have to admit, I was a little nervous about working with a traditional publisher. Chronicle, however, is fun, edgy, and creative—definitely more indie than stodgy. What's more, they're truly passionate about the message of the book and have the resources to convey it far and wide. I think they'll be the perfect partner in bringing minimalism to the masses.
And look at that beautiful cover they made! I liked the simplicity of my first one, but this cover just radiates joy. The vibrant yellow perfectly captures the sunlight that pours into your space, and soul, when you clear out the clutter. And see those dandelion seeds? They represent the exquisite lightness to be found in letting go.
Can you tell I'm excited? I honestly want to stand out on the sidewalk with a big stack of books and hand them out to passersby.
If my book is one of your Treasures (and I'm truly honored if it is), this volume is for you. It's perfect for those who keep it on hand and reference or reread it from time to time: the advice is more streamlined and easier to follow, and the hardback format will better stand the test of time (my own paperback copy is a bit worse for wear at this point). If you want Just One copy, what to do with the old? Well, those rare first editions are fetching $24+ on Amazon now. ;)
So now for the hard part: the waiting! The book will be released on April 26—that's nearly three months away (though it's already available for pre-order on Amazon, Barnes and Noble, and Powell's Books). I'm going to try to make the waiting easier by putting together some fun giveaways and other features in the meantime. I'm excited about introducing the book to a larger audience, but want you to have the first look and first copies. (In fact, I'm hoping to have some advance copies for early readers/reviewers—be sure to sign up for my email list to receive the announcements.)
More incredible news: the book will be translated into 17 (and counting) foreign languages. I'm in awe, and ever so grateful, to be able to spread our less-is-more philosophy worldwide. And for all those people who've requested it over the years: there's finally going to be an audio book!
Again, I just want to thank each and every one of you from the bottom of my heart. This blog, and this book, would not exist without you. One by one, over the years, you stumbled onto my blog and were kind enough to stick around and chat. You shared your opinions in the Comments and sent me such lovely emails. You asked me to write a book, and when I did, you read it and told your friends about it. You spread the word so magnificently that a real publisher now wants to put it on real bookshelves in real bookstores. So with any luck, even more people will read it and fall in love with minimalist living.
I feel like The Joy of Less is our baby, all grown up now and ready to go out on her own. And I look forward to having you by my side as we send her off and welcome more people to the wonderful world of less!