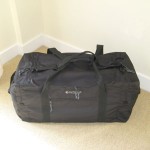 For six weeks this summer, I lived my minimalist dream—residing in hotels, with all my possessions in a single duffel bag.
My husband and I purged almost all of our stuff, and sold our house at the end of July (see My Minimalist Story, Part 2: The Great Unraveling). However, we still had to wait several weeks for our visas to be processed before we could move to the UK. In the meantime, we "lived" in a series of hotels, as we wrapped up our old life and prepared for the new.
We each had pared down our things into one (large) duffel bag. Normally, we wouldn't carry such unwieldy luggage, but it was the most cost-efficient way to transport our stuff across the ocean. The airline would carry our bags for free under our checked baggage allowance, whereas shipping the equivalent amount by post would have cost several hundred dollars.
[Now, I have to admit, I originally had packed a larger bag, in order to take full advantage of this free transport. The problem: I could barely lift it, let alone lug it any further than a few feet. It's a humbling experience to have to physically carry everything you own; only then can you truly feel how much your belongings weigh on you. In the end, I had to purge some additional items, and trade down to a smaller, more manageable bag.]
In my bag, I'd arranged my possessions in packing cubes—one for pants, one for shirts, one for underwear, etc. I had an "office" cube that contained essential papers for work, our visas, and our move; a "kitchen" cube with my spork, titanium cup, tea bags, and power bars; and a "pharmacy" cube with toiletries, medicine, and other supplies. I arranged the packing cubes in stacks in my duffel bag, so that I could retrieve the appropriate one as easily as opening a drawer.
What a wonderful way to live! I had never before reached this level of organization—a place for everything, and everything in its place. It's a principle I'd always tried to live by; but our house had too many nooks and crannies for things to hide. Some restless items always seemed to sneak out of their spots and roam around. Here, they stayed still by necessity—if they tried to make a break for it, they could very well be left behind. :-)
The afternoon of our closing, we moved into a highway EconoLodge. The tiny room was almost entirely bed, with only two feet on either side. Space was so tight, we had to stack our duffel bags on top of one another, just to leave a path to walk. It was certainly an abrupt change from the spacious, three bedroom house we had just left! But when you don't have a lot of stuff, you don't need a lot of space. We qualified for the hotel's "long term" rate (7 days+), and actually got quite a kick out of imagining it our permanent residence.
It's interesting how your perspective of "home" changes when you're without one. We stayed in four different hotels during our transition, never remaining in any one longer than two weeks. And yet it was amazing how quickly we'd "settle in" to each new spot. Just a day or two after checking in, my husband and I would find ourselves saying things like "meet you at home later" or "are we staying home tonight?" Our home was simply wherever our stuff happened to be at the moment.
It made me think about our past apartments and houses—we'd never considered any of them permanent (even the one we'd just sold). In fact, prior to our previous house, we'd never lived anywhere longer than two years. In essence, they were all just temporary places where we'd kept our stuff, and met up at the end of the day. Places that provided shelter from the weather, and someplace safe to sleep at night. Was that the definition of home? And if you carried all your stuff with you, could you be at home anywhere?
After the Econolodge, we moved onto an Extended Stay efficiency, then flew to England, where we stayed in two more hotels while looking for a flat. I loved our mobility, and got a particular thrill every time we changed hotels. On the morning of checkout, we'd have everything packed and ready to go in a matter of minutes (versus the month it took us to move out of our house!). We never felt like we were stuck anywhere, and always had something "new" to look forward to.
At the airport, our luggage seemed equivalent to that of people going on a long holiday. Nobody would have guessed we were moving our worldly possessions across the globe—for all they knew, we were two tourists setting out on a nice vacation. Which, actually, is very much how we felt—because when you're not loaded down with a houseful of stuff, life can feel like an extended vacation. :-)