I often hear from readers who have decluttered and decluttered and decluttered some more. They've streamlined their surfaces, ditched their duplicates, and pared down to the essentials. They're thrilled with their newfound space, but they want to know…. What's next?
And that's really the question, isn't it? What's the point of clearing out all the physical clutter?
I'll tell you: it's to give us the time and space and focus to clear out our INNER clutter.
Once we've cleaned out our closets and cabinets, it's time to clean out our hearts and minds. It's time to get rid of those negative emotions, unwarranted anxieties, and other hangups that drag us down and make us feel heavy. It's time to bring a new lightness into our souls.
Unfortunately, inner decluttering is a bit more complicated—we can't just box up our anger or insecurity and stick it out on the curb. But it can be done (and at much less expense than therapy!).
The most effective method I've found: journaling.
I was a reluctant journaler myself (who needs one more thing to do, right?)—until I gave it a try and realized how transformative it can be. When you feel weighed down with worries, fears, or other negative emotions, letting them out on paper is a wonderful way to release them for good.
But sometimes when you sit down with a pen, it's hard to know where to start. As I journaled, I kept wishing I had a program to follow—something specifically-tailored to the kind of psychological purging I wanted to do.
So after I worked through it myself, you know what I did? I wrote a guide for you! I want to share with you the prompts and inspirational quotes I use in my own journaling practice. And I'm just super-excited to take your hand and lead you down a new decluttering road with me.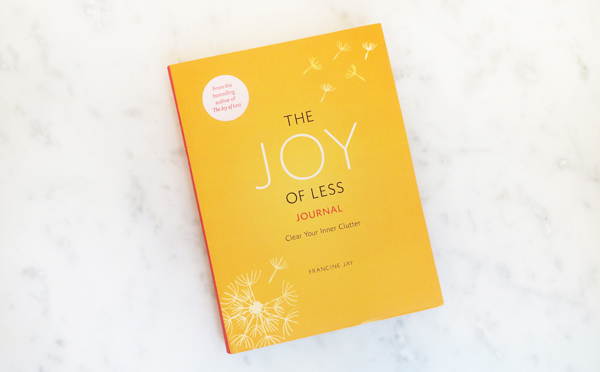 Just like with my STREAMLINE method, I take an ultra-practical approach. Personally, I don't want to waste time writing ad infinitum about a regret or disappointment; I want to dust it off, hold it up to the light, and decide once and for all to let it go. And that's what I do in this journal: guide you step by step through your inner decluttering so you can do it with maximum ease and efficiency.
And why do this on paper, you might ask? Well I don't know about you, but I'm terrified to put my innermost thoughts on my laptop. I feel like one wrong move or computer virus, and my most secret musings will be emailed to my contacts or posted on the internet (!).
The journal will be released on October 25, but is available now for pre-order through Amazon, Powell's, Barnes & Noble, Walmart, Book Depository, Amazon UK, Waterstones, Readings, and QBD. I'll be sharing more from it in the next few weeks, but just wanted to give you a heads-up that it's coming soon!
Do you journal? Is it something you'd like to try? Do you have some inner clutter you'd like to clear? I'd love to hear from you in the Comments!