Earlier this year, when we were living in a hotel, we had a TV for the first time in two years. We rarely turned it on, except for a few days when sidelined with the flu—at which time we managed to catch some episodes of House Hunters on HGTV.
I'm always amused when buyers on such shows complain that a bathroom doesn't have double sinks or a Jacuzzi tub. As a renter, I'm just happy if it's clean, the toilet flushes, and hot water comes out of the taps. It's a special bonus if it's not covered in garish-colored tiles, or sporting fake wood cabinets.
So anyway, I thought I'd share photos of my minimalist bathroom with you today. Not because it's particularly special, but because it isn't particularly ugly—and I know you guys always like pictures. Few of us will ever have the kind of spa-like retreats pictured in design magazines, so I thought it'd be fun to show a real life example. A minimalist bathroom doesn't have to have marble tile, fancy fixtures, or an orchid on the countertop. By keeping things simple and clutter-free, even a basic bathroom can be serene and soothing.
I know someone will add "sterile"—but hey, it's a rental!

We're forbidden to paint or hang stuff on the walls, so there's little opportunity for personalization. Looking at these photos, I think a small bowl of flowers on top of the cabinet would look lovely; however, it's the only work surface in the entire room, and a decorative object would compete with more practical things (like hairbrushes, toothbrushes, etc.) when the space is in use. In my opinion, a bathroom is first and foremost a functional space, so bare it shall likely remain.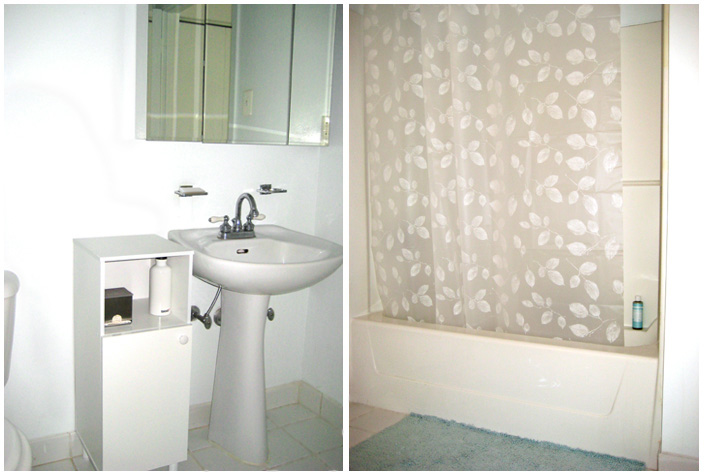 Since I've been moving around so much, this is my fifth bathroom in less than a year. Here's a few things I commonly do in my quick and cheap makeovers:
1. Pretty shower curtain. Actually, this is our first place in the past year that didn't have a glass screen. In this case we replaced a dingy yellow curtain, and it's amazing how this simple aesthetic change makes me smile every morning. My personal preference is something white or translucent, and PVC-free.
2. Adequate storage. We have a small cabinet to keep things off the floor and sink. Inside, there are two shelves: one for my toiletries, the other for my husband's.
3. White towels. They're not visible in the above shots, but they're there.
4. Little touch of color. I chose an aqua bath rug because I love the color (it also matches my Dr. Bronner's over there in the tub!). Alternatively, you may choose to add color with your towels or shower curtain.
5. Multi-purpose products. I became accustomed to using soap/shampoo combos while traveling, and love how they prevent a hodgepodge of items from gathering in the bath.
6. Clutter-free surfaces. Keeping things tucked away means more maneuverability in a small space—in other words, no worries about knocking a bottle onto the floor or a toothbrush into the toilet. Clear surfaces are also more hygienic, and easier to clean.
7. Clean, clean, clean. In my opinion, fresh and sparkling trumps fancy and expensive any day. Consider using natural cleansers like baking soda and vinegar—they're kinder to the environment, and save you from having to buy (and store) a variety of specialty products.
Certainly, my humble bathroom will never grace the pages of a shelter magazine. However, I hope it provides a little inspiration to clear out the clutter, and make the best of what you have!
What are your techniques for keeping clutter out of the bathroom?
{If you'd like to learn more about minimalist living, please consider reading my book, The Joy of Less, A Minimalist Living Guide, or subscribing to my RSS feed.}