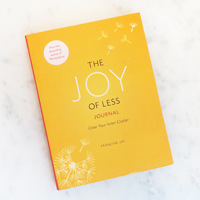 I'm thrilled to announce that The Joy of Less Journal: Clear Your Inner Clutter is being released today—and I'm giving away 3 copies to celebrate!
Decluttering often makes you ask questions that go beyond possessions—you have to confront your past, let go of emotions or expectations, and decide what you want for your future. That's why it feels so liberating: decluttering frees you of psychological baggage as well as physical baggage.
Sure, clearing out the inner clutter can be a little more challenging: we can't just put our guilt or anxieties or fears out on the curb. However, we can give these little buggers the same inquisition we did our stuff, and decide once and for all to let them go.
In this journal, I help you do three things: Reduce Stress, Release Worries, and Restore Clarity. As I explain in the Introduction:
Over the course of this journal, we'll ponder various ways to Reduce Stress. Commitments, expectations, and responsibilities pile up over the months and years, and rarely do we take the time (we don't have any!) to purge them. The result: lots of less meaningful activities crowd out the more meaningful ones, leaving us weary and unfulfilled. Worse yet, our busyness can take a toll on our mental health, making us feel frustrated, helpless, and overwhelmed by our daily lives. As we write, we'll strive to identify and eliminate our excess stressors and the pressures that go along with them. In so doing, we'll regain a sense of empowerment and control over our lives, making for more-rewarding days and more-restful nights.

We'll also write to Release Worries. (You may be surprised how powerful and life-changing this can be!) When we squirrel away negative feelings the way we do our stuff, they weigh on us and steal our joy. But now their days are numbered: one by one, we're going to shake them out, see them for what they are, and send them on their way. When we do a clean sweep of our hearts, that old grudge, nagging guilt, or buried anger will no longer have a place to hide. Writing helps us identify our emotions in a detached, objective way—Hello, anxiety. What are you doing here?—and say good-bye to those that aren't serving us well.

As we clear out the mental clutter, we Restore Clarity. This is the ultimate goal of our minimalist journey: to eliminate the extraneous, so as to focus on what's truly special to us. We'll explore various techniques to calm our muddy waters, filter out the detritus, and see what emerges from the clear and sparkling depths. We'll contemplate what nourishes our souls and gives us a higher sense of purpose—whether it's pursuing a passion, contributing to our community, or spending more time with our kids—and commit our time, attention, and resources to that end. The point of emptying our cups is that they stand ready to be filled with our hopes, dreams, and joy.
I've filled this journal with prompts and inspirational quotes designed to make your inner decluttering as effective and enjoyable as possible:

That quote in the middle (by Nathaniel Hawthorne) is one of my favorites:
She had not known the weight until she felt the freedom!
I invite you to come along this new journey with me—let's get rid of those hangups that make us feel heavy, and bring a new lightness into our souls.
I'm giving away 3 copies of the journal to get us started. (Even if you've never journaled before, I encourage you to try it; I personally was amazed how transformative it can be!)
To enter the giveaway, simply leave a Comment below. If you'd like, let us know what inner clutter you'd like to get rid of.
I'll keep the giveaway open until the end of Friday, October 28 and use the number generator at Random.org to choose the winners. Please be sure to use a legitimate email address, so that I can contact you to obtain your mailing information.
{The journal is available for purchase through Amazon, Powell's, Barnes & Noble, Target, Walmart, Book Depository, Amazon UK, Waterstones, Readings, and QBD.}