What a fun and busy book launch week! Thanks for all your sweet words and congratulations on my previous post; it's been such a pleasure sharing this experience with you.
I'd just like to do a quick roundup of The Joy of Less giveaways that are going on. They're all ending in the next day or two, so surf on over for a chance to win!
In other news, my little book has its very own YouTube video:
And I'd also like to announce the publication of The Joy of Less in Dutch and Polish:
It's so exciting to see all the different international covers. That Dutch one is a beauty, isn't it? Love the single pearl on a plate. And the Polish cover is so simple and serene. I've started an International Bookshelf over on my book page, and will add the foreign language editions as they're published.
I have a little press to share as well—a quote in the May issue of House Beautiful: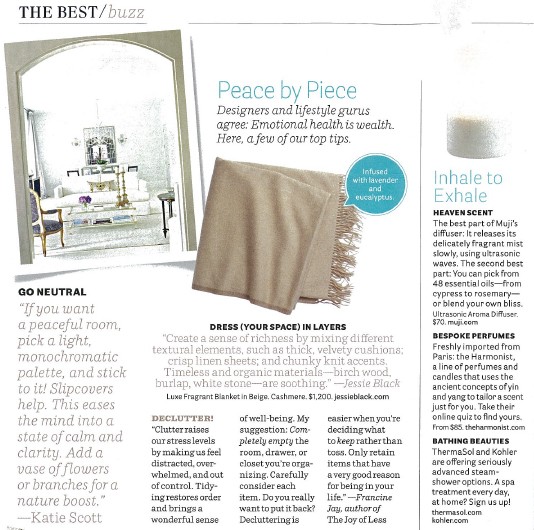 How wonderful to see decluttering presented as a means to a beautiful home! I truly believe that our lives flow more smoothly and gracefully in an uncluttered home, and that a serene space leads to a serene mind.
And for those who can read Dutch, here's an interview I did with Libelle magazine.
Last but not least—I'm keeping the printables offer open for one more day! If you purchase the new edition of The Joy of Less by tomorrow (Friday April 29), fill out this form to receive a dozen decluttering tip sheets. There's one for each room in the house, plus some quotes—a little visual inspiration for you and your family.
Thank you again, from the bottom of my heart, for all your support—and making my dream of seeing The Joy of Less in bookstores come true!