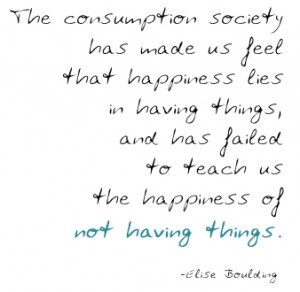 The consumption society has made us feel that happiness lies in having things, and has failed to teach us the happiness of not having things. -Elise Boulding
What a wonderful quote, and so true! We're constantly bombarded with the message to buy, buy, and buy some more—it's hardly ever suggested that we might find greater satisfaction in not owning something. Yes, you read it here, week in and week out; but I'm just one tiny voice questioning the status quo—hardly a match for the marketers and advertisers that command so much of our visual and auditory attention.
So after three years of blogging, I've been inspired to look back and celebrate the things I've learned I'd rather not have. I've included links, and hope you enjoy my walk down memory lane. Better yet, I'd love it if each of you would share one post (or more!) with someone else via email, Twitter, or Facebook.
My website stats say I had 93,971 unique visitors last month (!)—imagine if all 93K+ of you passed on the minimalist message to someone else? We might actually create a ripple effect to drown out some of the more-is-more rhetoric, and introduce a greater audience to "the happiness of not having things."
So here they are: 15 Things I'm Happier Without (and you might be, too!)
1. Television. In Life Without a TV, I wrote about how my husband and I gave up our television when we moved overseas in 2009. See my No TV Update: Three Years and Counting to learn how we feel about pulling the plug.
2. Couch. During our time in England, we lived without a couch—for seating, we used two Ikea Poang chairs instead. Although we've now been reunited with our sofa-in-storage (and need the seating for frequent guests), I'd still prefer to do without.
3. Desk. Last year, I shared a photo of My Minimalist Workspace: a windowsill and floor cushion. From the time I was a child, I've never really been comfortable at a desk. I wrote my book, The Joy of Less, on the floor. :)
4. Bed frame. In My Tiny Apartment Tour, I gave readers a sneak peek into My Minimalist Bedroom. A mattress on the floor is my idea of a serene oasis!
5. Other furniture. While I thought we lived with The Bare Essentials in England, we downsized to just a coffee table and mattress in our Empty, White, and Beautiful summer sublet. If you want some instant decluttering gratification, I recommend ditching a piece or two of furniture—here are 15 Pieces of Furniture You May Not Really Need.
6. Curtains. Ah, how I love Naked Windows! Our current house has translucent fabric shades on the street side, but the back-facing windows are bare as can be.
7. Collectibles. In my post On Not Collecting, I wrote about dissolving a cocktail shaker collection, piece by piece, on eBay—and how I never again wanted to own 10, 20, or 30 of something. This holds particularly true for any kind of valuables; I'd much rather have Nothing to Steal.
8. Books. Physical books, that is. When I moved abroad and became separated from my favorite tomes (which were too heavy and expensive to ship), I became a huge fan of ebooks. I dream of someday having a completely digital library.
9. Hobby supplies. I'd rather not have a closetful of craft supplies, or garageful of hobby and/or sports equipment. Therefore, I try to focus on Minimalist Hobbies—leisure and creative pursuits that don't involve the acquisition or storage of a lot of stuff.
10. Specialty kitchenware. I've pared my kitchen essentials down to a few versatile pieces (What's in a Minimalist Kitchen?)—just enough to cook and eat our favorite foods, without relying on restaurants or takeout.
11. Heirlooms. I suspect I'm not the only one who could do without a relative's "treasures." See The Top Ten Ways to Declutter Heirlooms to learn how you can gracefully part ways with grandma's china.
12. Large wardrobe. I began my minimalist journey with two closets full of clothing, and eventually pared down to a suitcase. Last year, I shared with you my 10-Item Wardrobe—the pieces that get me through the majority of my daily activities, in every season.
13. Mail. Stopping the postal deluge gives me far less paperwork to deal with; here's my advice on creating a Minimalist Mailbox.
14. Perfume. When I learned about the health risks of perfume (and the environmental impacts of its production and distribution), I went fragrance-free. Perfume is One Less Thing I need in my life.
15. Gifts. I'm blessed with everything I need, and prefer my friends' and family's presence over presents. If you feel the same—and dread accumulating more stuff over the holidays—you may enjoy my Gift Avoidance Guide.
Again, I'd be delighted if you'd share a post or two with friends and family. I think the idea of minimalist living is just beginning to gain momentum, and would love to introduce some more people to the lifestyle.
So tell us in the Comments–what are you happier without? Or here's an interesting question: what was the first thing you realized you were happier without, that started you down a minimalist path?
{If you'd like to learn more about minimalist living, please consider reading my book, The Joy of Less, A Minimalist Living Guide, or subscribing to my RSS feed.}