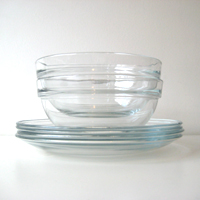 After I graduated from college, I inherited a beautiful set of china from my grandmother. My fantasy self—the one who planned to throw fabulous dinner parties in her English manor house—was elated to own twelve place settings of vintage tableware. My real self, however—the one who carefully wrapped every dinner plate, salad plate, dessert plate, bowl, cup, and saucer during each move—became decidedly less enthusiastic about it over time.
After going through the painstaking process of packing and unpacking it at least four times (and constantly worrying about breaking an irreplaceable piece), I'd had enough. I finally gave the whole set to a less nomadic family member, and breathed a huge sigh of relief. The irony: despite all the effort I put into preserving it, I'd used it on only one or two "special" occasions.
My dinnerware today is much simpler: four glass plates and two glass bowls, pictured above. Sure, it may not be as elegant—but it's inexpensive, lightweight, and causes me not a whit of worry. The last time I moved, I didn't even bother to wrap it up. Should I break a piece, I can simply nip on down to my local Ikea and pick up another ($0.99 in US, £0.70 in UK). And should I someday decide that transporting it is a hassle, I can donate it to a charity shop (or give it away on Freecycle), and spend about $6 to replace it at my new destination.
What about entertaining? So far, it hasn't been a problem. We rarely have more than two guests for dinner, and if multiple courses are involved, I wash the plates in between. The very few times I've been short on tableware—like when I hosted Thanksgiving dinner—I've simply borrowed from friends and family. No one ever seemed put out by my request, but rather happy to contribute to the occasion. (I think the pooling of resources can enhance the warmth of a gathering, much like a potluck dinner!)
Certainly, I can't guarantee that I'll have the right plate (or enough plates) to accommodate every possible culinary situation. But that's okay by me: what I have fits my current lifestyle, and when it comes to dinnerware, I'm perfectly content to "live on the edge." ;-)
And though my grandmother's set was lovely, I personally like the simplicity and versatility of plain glass. It blends with a variety of décor, is appropriate for any occasion, and most importantly, calls attention not to itself, but to its contents. For in the end, it's what's on the plate that really matters anyway!
(This post is part of my "100 Possessions" series, in which I explain why each item I own deserves a place in my minimalist life.)
{If you'd like to learn more about minimalist living, please consider reading my book, The Joy of Less, A Minimalist Living Guide, or subscribing to my RSS feed.}