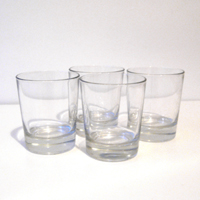 Once upon a time, my husband and I had a cupboard full of glasses: water glasses, juice glasses, pint glasses, wine glasses, champagne glasses, even whiskey glasses. Name a beverage, and we likely had a special glass for it.
In hindsight, it seems ridiculous – but we hadn't gone out and purchased them all at once. They just slowly accumulated over the years we lived in our house. Some we bought for daily needs, some we received as gifts, and some we acquired for special occasions.
Some we used every day, and some we used just once or twice a year. But because they generally came four to six in a set, we had far too many for a household of two.
When we moved to the UK, we said "enough" to all those glasses. Since they didn't make the trip overseas, we had a chance to start over – and we did so with the four simple tumblers pictured above.
Our strategy was to start with those, and add more only when absolutely necessary. As we'd moved to a foreign country where we knew very few people, we didn't anticipate throwing big cocktail or dinner parties.
Well, I'm happy to report that eighteen months later, we haven't found need to add to our collection. Our various beverages taste perfectly fine in the same simple glass – who knew?
My greatest concern had been wine. Would the lack of a fancy glass do a disservice to a fine vintage? Maybe – but since our bottles of choice are generally in the sub-$10 category, I needn't have worried. In fact, while traveling through Europe, I've been thrilled to discover that the restaurants we love most (rustic, down-to-earth, family-run) serve their wine the same way. I'm sure many a connoisseur would disagree, but I've come to prefer a simple glass over fussy stemware.
Ah, but what if we need to entertain? Well, we rarely host dinner for more than four people; and if called upon to do so, glasses would likely be the least of my worries (after plates, flatware, seating, and oh yes, a dining table). If the occasion arose, I would rent or borrow what's needed, depending on the scale of the affair. At this semi-nomadic time in my life, I can't justify owning all that stuff for a giant "what if?".
So what do you think – have I violated all sorts of culinary decorum here? What's the glass / people ratio in your household?
(This post is part of my "100 Possessions" series, in which I explain why each item I own deserves a place in my minimalist life.)
{If you'd like to learn more about minimalist living, please consider reading my book, The Joy of Less, A Minimalist Living Guide, or subscribing to my RSS feed.}