A few weeks ago, I attended the John Pawson exhibition at the Design Museum here in London. For those unfamiliar with his work, he is the minimalist architect extraordinaire. I adore his aesthetic: white walls, open spaces, and minimum adornment, combined with natural materials like wood, marble, onyx, bronze, and granite. Simplicity, purity, grace, clarity – these are the words that come to mind when looking at his spaces.
At the exhibition was a long table, displaying the architect's notes, articles, architectural renderings and models. This page of Pawson's typewritten notes was the first thing I laid eyes on: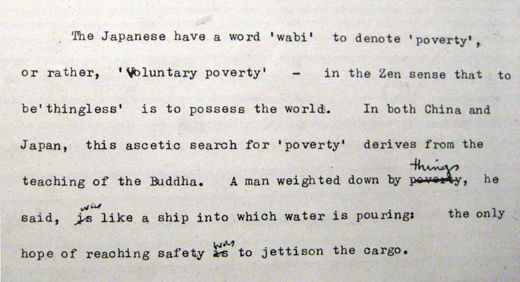 .
"To be thingless is to possess the world."

The words struck me like a lightning bolt and burned themselves into my brain. Every day since, I've been repeating this mantra over and over in my head. I love it for its simplicity, its poetry, its philosophy, its expression of the very essence and joy of minimalism.
And, of course, I couldn't wait to share it with you. :)
Like all things Zen, it shouldn't be interpreted literally. In our modern times, it's nearly impossible to be absolutely "thingless," and none of us actually want to "possess" the world.
This phrase, rather, is a reminder that the less we're attached to things, the more freedom we have. The less time and energy we devote to things, the more we have for experiences. The less walled-in we are by things, the more open we are to those around us.
In other words: when we're not possessed by things, we can fully embrace the world.
And I'll leave it at that, because nothing I can say is as beautiful, powerful, or inspirational as those eight little words.
{If you'd like to learn more about minimalist living, please consider reading my book, The Joy of Less, A Minimalist Living Guide, or subscribing to my RSS feed.}