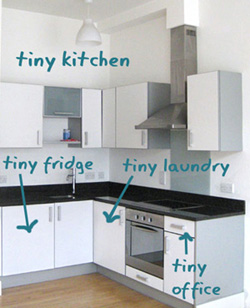 A little over a year ago, my husband and I were living in a 1000-square-foot, 3-bedroom house with a 2-car garage and postage stamp backyard.
Now we're living in a 390-square-foot, 1-bedroom apartment.
I have to admit: I loved the idea of such a radical downsizing, but wasn't quite sure how it'd work out in practice. But you know what? So far, we're functioning perfectly well in about one-third of our former space.
Here are the differences between our former (larger) house and current (tiny) flat:
Former house: 3 bedrooms
Tiny flat: 1 bedroom
Thoughts: Having three bedrooms was a lot of wasted space for us. We turned two of them into offices; however, I rarely used mine, preferring to work (on my laptop) in the living room instead. We've found one bedroom to be adequate for our current needs, but may opt for two in the future (the extra could serve as an office/guest room/flex space).
Former house: large, eat-in kitchen
Tiny flat: compact kitchen in corner of living room
Thoughts: I love having an open-plan kitchen, and the lack of space has been a great disincentive to accumulating excess culinary gadgets and appliances.
Former house: full-size refrigerator
Tiny flat: small, dorm-size refrigerator
Thoughts: When we first moved in, I thought the tiny fridge would be a problem – but surprisingly, it hasn't been an issue at all. We're a five-minute walk from the grocery store, and have found we prefer spontaneous meal-planning to bulk-buying or stocking up.
Former house: laundry room
Tiny flat: small washer/dryer combo in kitchen cupboard
Thoughts: If the unit worked well, this wouldn't be a problem. However, it's a temperamental bugger, and I often resort to hand-washing and air-drying rather than fight with it. I really don't mind, though – there's a certain simplicity and mindfulness to it.
Former house: two-car garage, two cars
Tiny flat: no parking space, no car
Thoughts: My husband commutes to work by rail and foot, and we take the train or bus on our weekend jaunts. We heart public transit!
Former house: front and back yards, garden
Tiny flat: public parks, pot of herbs on the windowsill
Thoughts: We miss having a garden (but not mowing the lawn!). For now, we're content with growing some herbs and frequenting farmers' markets – but in the future, it would be nice to have a small plot of land.
Former house: basement full of equipment and tools
Tiny flat: shoebox with a handful of small tools (hammer, screwdriver, etc.)
Thoughts: Since we're living in a rental, we're not responsible for maintenance and repairs; after owning an old house, that's been quite a relief!
Former house: two offices
Tiny flat: ziplock bag of supplies in a kitchen drawer
Thoughts: Most of our work is done digitally, so we really don't need a roomful (or two) of office equipment and supplies. A few envelopes, paperclips, pens, pencils, tape, etc. have been enough.
Former house: two bookshelves full of books
Tiny flat: a handful of books
Thoughts: Ebooks are my minimalist dream come true. If I can't get something from the library, I purchase the Kindle version. Since another overseas move is likely in our future, I'm determined not to accumulate physical books.
Former house: TV
Tiny flat: no TV
Thoughts: If you own a TV in the UK, you must pay a yearly TV tax. We decided to skip the expense of the TV, cable, and tax by forgoing it altogether. We occasionally watch shows or movies on our laptops (via iTunes).
Former house: attic
Tiny flat: no storage
Thoughts: As I say in my book, stuff expands to fill the space available. Having less storage space makes it much easier to be a minimalist!
Former house: 21 normal-sized windows
Tiny flat: 4 enormous windows
Thoughts: 17 less windows to clean!
Former house: doing repairs and maintenance on the weekends
Tiny flat: traveling and hiking on the weekends
Thoughts: :-)
Overall, I'm really enjoying our tiny-living experience. It's fascinating to see "how low we can go" and still meet our needs – without many of the things we once considered necessities.
In our consumer society, downsizing is often associated with deprivation. Our experience, however, has been the opposite: living with less has given us an incredible sense of freedom, happiness, and spontaneity.
Have you ever done a radical downsizing (or do you dream of it)? If so, tell us about it in the Comments!
{If you'd like to read more about minimalist living, please consider buying my book, The Joy of Less, A Minimalist Living Guide, or subscribing to my RSS feed.}