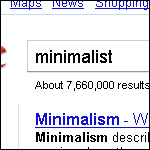 I was recently asked by a reporter whether I thought the current popularity of minimalist living was a passing fad, or a bona fide movement.
First of all, I'm thrilled that minimalist living is on the radar of mainstream media. I've been a minimalist for a long time, and I remember when my Google searches on the term turned up little more than references to modern architecture, John Cage's music, and 1960s art. Today, the same search returns a treasure trove of websites, blogs, and discussions – and yes, some actual newspaper articles – on how to live a simpler life.
Years ago, when I told people I was a minimalist, they looked at me like I had two heads. Today, they invite me over to declutter their closets and basements.
My answer: I believe that minimalist living is an important new movement that will transform our lives, our society, and our planet.
As I see it, a movement involves the convergence of three factors: a precipitator, an enabler, and a means of communication. Here's how they're contributing to the rise of minimalist living:
Precipitator: the Recession. When the economy was booming, few stopped to question the status quo. Money was flowing, credit was easy, and we all went shopping. But when things turned south, all bets were off: many of us looked around at the stuff we'd bought, and realized what a deep hole we'd dug. We realized that trading our time, energy, and financial stability for a pile of possessions just wasn't worth it. Plus, many of us had run out of space to put it all! And so began a massive re-evaluation of our consumption habits.
Now, I know a lot of minimalists (myself included) whose lifestyle choice had nothing to do with the recession. However, I do think the economic downturn gave minimalism more widespread appeal; when money is tight and jobs are scarce, living with less is a fantastic alternative to digging deeper into debt. Furthermore, staying in the job market often requires much more mobility these days, and it's no picnic dragging around a lot of stuff.
Enabler: Technology. At the same time, digital technology has enabled us to turn more and more of our physical stuff into intangible bits and bytes. We no longer need to be saddled with CDs (or DVDs) and their cases, boxes of paperwork, or heavy loads of books. We can scan (or digitally save) our documents, and store scores of books, songs, and movies on our Kindles, iPods, and iPads. Of course, that also means less need for furnishings like bookshelves, file cabinets, and CD racks.
Means of Communication: the Internet. Corporations and big media have long dominated mass communication – and they used it to spread the message that more is better, and material accumulation is the measure of success. Now, with the proliferation of tweets, blogs, and discussion forums, we're exposed to a lot more messages from "tiny" media – and a lot of these messages are saying "hey, 'more is better' didn't work for me, but 'less is more' does!" Minimalism has gained a voice (make that thousands of voices), and we've only just begun discovering its joys and singing its praises.
So does the idea of minimalist living have staying power? I think it does. We'll likely become more mobile as a society, and location-independent as a workforce (google "digital nomads"), and technology will only progress in reducing our dependence on physical stuff.
Will some people return to their old levels of consumption when the recession ends? Sure. But I think enough of us have discovered that we prefer living with less, and will continue to live a pared-down lifestyle by choice. Whatever our reasons for adopting a minimalist lifestyle in the first place, we've likely discovered some of its myriad benefits – like less stress, more freedom, and more time to spend with friends and family rather than fussing over stuff. Not to mention, it's nice to know we're contributing to a healthier planet; because the less we buy, the cleaner our air, the fuller our forests, and the emptier our landfills.
It's pretty amazing, actually: if minimalist living is a movement, we have a unique opportunity to change the current paradigm – from one of overconsumption, to one of conservation and sustainability. We can be pioneers of social and economic change simply by consuming less.
I'd love to know your thoughts. Do you think minimalism is a temporary trend, or here to stay? Is it a short-term or long-term lifestyle choice for you? Let me know in the Comments!