Last week, I wrote about my Housing Crisis – at the time of the post, my husband and I had four days to vacate our flat and no prospect of new accommodations.
Well, today I have some good news to report: I'm writing this post from our new apartment! With only hours to spare, we found a place, passed the reference check, and signed a lease. I still can't believe that everything fell into place at the last minute.
What's even more exciting: our new place will inspire us to continue to live minimally, and provide me with plenty of blog material. Why? It's less than 400 square feet (390 to be exact).
In one year then, we've downsized from a 1000-square-foot 3-bedroom house, to an 800-square-foot 2-bedroom flat, to our current 390-square-foot 1-bedroom flat. Woo-hoo! I'm excited to explore the challenges of living in such a small space.
The wonderful thing is, it doesn't feel small; in fact, it feels more spacious than some of the larger flats we looked at. The reason: it has white walls, ceilings over 10 feet tall, and enormous windows that take up the entire front wall of the flat. It's amazing what a difference these features can make – the whole place seems so light and airy.
Here's a few pics (one of the front windows, one of the open-plan kitchen in the corner of the living room):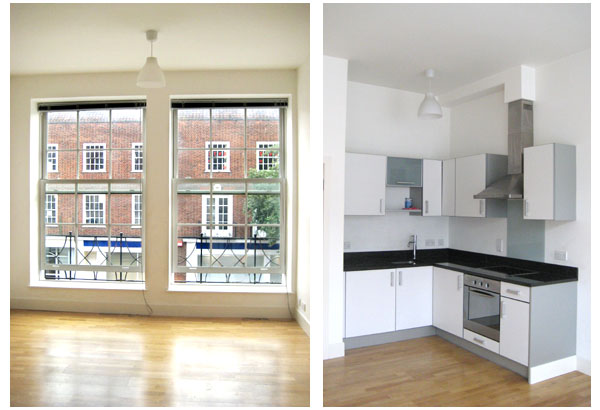 Some of the challenges we'll be facing (and I'll certainly be writing about):
* the complete lack of storage space. This flat was a conversion, and has no built-in closets. We will have to fit all our stuff into three small wardrobes (I'll take one, DH will take one, and the third will hold coats, shoes, tools, paperwork, luggage, iron, and all those miscellaneous household supplies that have to go somewhere).
* the tiny refrigerator. Having a small, dorm-sized fridge (with an itsy-bitsy freezer) will be wonderful inspiration to shop often and cook fresh. I plan to write more about our simple, healthy meals in the future.
* no parking. Last year, DH needed the car for work, and we found it convenient for exploring the English countryside. Since this flat does not include parking, we're ready to go car-free! DH will commute by rail and foot (2 miles walking each day), and we'll be relying on trains and buses to get out of the city and go on our weekend hikes.
So what's the meaning of the title, "400 square feet is the new black"? Well, my good friend Tammy Strobel (Rowdy Kittens), her husband, and their 400-square-foot apartment were featured this week in a wonderful New York Times article on living a happy life with less. I'm thrilled to join the ranks of such inspiring, small-space dwellers, and hope to see a trend develop for mindful, "right-sized" living.
My husband and I haven't lived in this small of a space since college, and we're excited to come full circle (we always felt the 1000-square-foot house was much too big for us). Fortunately, our lack of stuff has enabled us to move into a lovely space in a great location (if we had more possessions, we'd probably still be looking).
I never expected to live in 400 square feet again, but I'm pretty confident we can make it work. How about you – how low could you go? Let me know in the Comments!