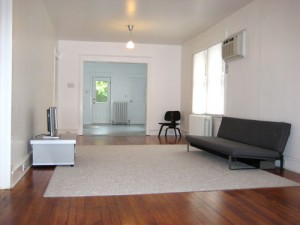 My husband and I recently sold our three-bedroom, 1920s-era bungalow. As we inconveniently listed it during one of the worst housing markets EVER, it took four months for it to sell.
As anyone who has sold a house (particularly during a buyer's market) knows, when your house is on the market it is no longer a place in which you LIVE—ie., a place to kick off your shoes, pile mail on the table, or cook anything that leaves even the slightest odor or mess. Because at any moment, you might receive a call from a realtor who's standing outside your door, wanting to show the place to a potential buyer RIGHT NOW.
It's kind of like living in one of those Ikea showroom vignettes. Buyers want to see a picture-perfect representation of life in the house, yet don't want to believe that real people actually live there.
So we began to live a surreal existence in which every time something was used, it was immediately put away. Every time something got dirty, it was immediately cleaned. Every time something drifted out of place, it was immediately returned to where it belonged.
This went on for four months—and though I'm sure I complained plenty about the constant dusting, vacuuming, and picking up—I LOVED IT. There were never dishes in the sink, papers on my desk, or piles of laundry on the bedroom floor. In fact (thanks to a little OCD), there was never a sock on the floor, a crumb on the counter, or a hair in the tub. Walking through our house was like walking through the pages of a shelter magazine.
Better yet, it was such a pain to keep things in order that it was easier just to get rid of them. So if we couldn't find a place for something, or got tired of cleaning around it, it would go on Craigslist, Freecyle, or out on the curb. Unloved clothes were sold or donated to make our closets look more spacious. Old paperwork was finally shredded, and we even paid a service to digitize our photographs. It helped, of course, that we were making a long-distance move and could take little with us (the photo was taken after most of our furniture was sold).
I thoroughly enjoyed those blissful months of minimalist living, and now that we're in an apartment, I hope we can continue some of the habits we developed. (It takes a lot more discipline, though, when hundreds of thousands of dollars aren't on the line!)
I think the following house-staging habits will be most effective as we try to maintain a minimalist household:
1. Have a place for everything, and (religiously) put everything in its place.
2. Keep ALL surfaces clear. If you see something sitting on a counter, put it away immediately.
3. Clean as you go. Wipe down counters, appliances, tubs, etc. immediately after each use.
4. Get rid of everything that isn't necessary or important to you.
5. Try your darndest not to bring anything MORE into the house.
The fact that a complete stranger could ring our bell in five minutes—with the express intent of JUDGING our house's appearance and cleanliness—was all the incentive we needed to keep it looking spotless. Now that we're once again settled, I'm trying to keep this attitude (pretending, for example, that our landlord could drop in at a moment's notice) and with any luck, enjoy a similarly clean, serene, and clutter-free household.