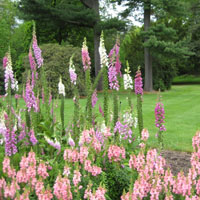 Fortunately, my Plumblossom is too young to shower me with knick knacks or other gifts this Mother's Day—she'll be sticking with some sweet smiles and little coos (all I could ask for!).
But infants aren't the only ones who can honor their mothers in minimalist fashion; so for the rest of us, I've put together a list of no-clutter ways to show our love:
1. Cook your mom a delicious meal. You can put together breakfast-in-bed, an elegant brunch, or a special dinner (even if you're not a culinary whiz, she'll appreciate your efforts!)
2. Take your mom to the park, or local horticultural center, to admire the spring blooms. This time of year, public gardens are planted with a gorgeous array of flowers, including tulips, lilies, and daffodils. Enjoying live flowers is more environmentally-friendly than purchasing cut ones.
3. Dig through your family photographs, and select pictures of you (and your siblings) from your childhood years through the present. Scan them into your computer, create a digital slideshow, and burn a DVD (or put on a USB drive) to give to your (tech-savvy) mom.
4. Write your mom a poem or a personal letter. Words from your heart are far more touching than a greeting card or store-bought gift.
5. Give your mom the gift of your time. Offer to do household chores or maintenance tasks, or share your skills and expertise. For a formal flourish, present her with handmade coupons for your "services"—like washing the windows, waxing the floor, or installing software on her computer.
6. Wash your mom's car. In addition to a good soap and rinse, vacuum and wipe down the interior.
7. Put together a "gourmet basket" for your mom. Pick a theme, obtain items inexpensively from the grocery store, arrange them artfully in a basket or box, and top it off with a decorative ribbon. Some themes include a pancake breakfast (gourmet pancake mix, maple syrup, preserves, and coffee beans), high tea (a selection of gourmet teas, crackers, scones, and preserves) or a chocolate lover's dream (various bars of chocolate, and chocolate-dipped items, like pretzels, espresso beans, and dried fruit).
8. Take your mom out for a Mother's Day picnic. Prepare salads and sandwiches, and pick a lovely setting where you can enjoy the fresh air and spring flowers. It's a wonderful way to spend quality time with your mom, free of restaurant crowds and other distractions.
9. Instead of a buying a bouquet, include a packet of seeds in her Mother's Day card and help her plant them in her garden.
10. Take your mom out for a cultural experience: like the ballet, opera, outdoor concert, or art exhibition.
Above all, be creative! When I was living in England, I used to photograph the blooms I encountered on my countryside walks—I then gathered them together into a Mother's Day email for my mom, explaining what they were and where I came across them. Creating this digital bouquet was a great way to share this unique experience with her and include her in my "travels."
I hope you all enjoy this beautiful day, and I'd love to hear how you plan to spend it!
{If you'd like to learn more about minimalist living, please consider reading my book, The Joy of Less, A Minimalist Living Guide, or subscribing to my RSS feed.}