I have some exciting news to share with you today: I've published a new book!
If you've been reading my blog for awhile, you may remember a little series I used to do called "100 Possessions." I'd select an item I owned, and explain why it deserves a place in my minimalist life.
They were some of my most popular posts, and many of you asked me to revive the series. So I started writing…but had so much fun, I couldn't stop! Over the years, I've developed a sort of capsule household—a small collection of ultra-versatile items—and I wanted to show you everything. And thus, my new book was born:
100 Essentials: Simple Kitchen + Capsule Wardrobe + Minimalist Home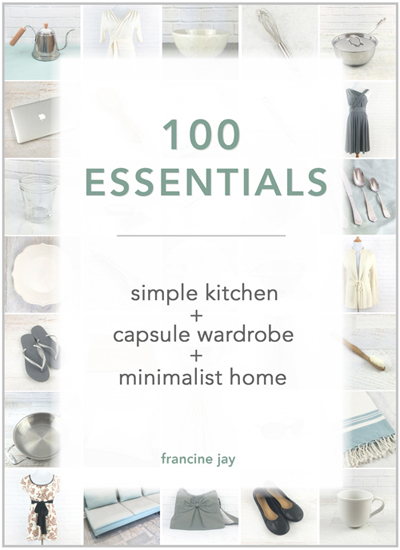 Here's an excerpt from the Introduction:
I'm often asked what inspired me to become a minimalist. The answer: I fell in love with traveling lightly.

After over-packing on a few trips, and suffering the misery of lugging around a heavy suitcase, I vowed henceforth to travel with just a small carry-on. The experience was exhilarating! I felt like I could go anywhere, and do anything, when I wasn't loaded down with stuff. And I thought, wow, if it feels this great to travel lightly, how wonderful would it be to live this way?

I began to edit the contents of my home with the same fervor as I had my suitcase. As I slowly ditched the extra "baggage," I could feel the weight being lifted from my shoulders. I became a decluttering diva, peeling away the layers of excess, working my way down to the essentials. I reduced and reduced and reduced, for well over a decade.

And then it hit me: how much faster and easier would it be if I started with a clean slate and worked my way up? In other words, what if I looked at my whole life as a journey and simply packed my "suitcase?"

In my book, The Joy of Less, I waxed poetic on the wonders of a capsule wardrobe—a small collection of ultra-versatile clothing to suit all my needs. I also speculated on how lovely it would be to have a capsule office: all my supplies in a single, portable box so I could work anywhere.

Why stop there? What a joy would it be to cook with a capsule kitchen, with just the favorite pots, pans, and tools I always reach for (and without having to rustle through less useful things to find them)?

In fact, we can apply this capsule concept to the entirety of our possessions—a capsule household, if you will. That's the premise of 100 Essentials.
It includes 100 full-color photos of my 35-Item Kitchen, 35-Item Wardrobe, and more.
Ultimately, it's a new twist on decluttering: eliminate the excess by choosing your essentials. When your stuff is in sync with your needs, you can move through your days more gracefully and efficiently.
Whether you're relocating, retiring, or just starting out, 100 Essentials helps you travel more lightly through life. It's also a great resource for those who are living in small spaces (or dreaming of it).
My hope is you'll join in the fun, and use my list as a springboard in making your own. I think we can have a blast sharing and debating our respective choices here on the blog! In fact, I'd love to launch a new series (similar to Real Life Minimalists) in which you, my readers, share your 100 Essentials.
And lest it sound too extreme, don't worry: I take a friendly, flexible approach that allows for some Extras. I want this to be accessible and enjoyable for anyone who wants to try it. :)
As always, I'm deeply grateful for your support, and hope you'll join me on this little escapade through my minimalist home!
Please note: 100 Essentials is currently available only as an ebook, as it's cost-prohibitive to print in full color. But you don't need a Kindle device; simply download one of the free Kindle Reading apps to your PC, Mac, iPhone, iPad, etc.