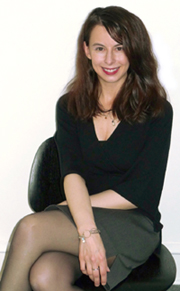 .
I'm Francine Jay, and I'm a minimalist.
To me, being a minimalist isn't only about white walls and empty spaces. It's about eliminating the distractions that keep us from fully appreciating life.
The less stuff we have cluttering our homes (and the less "to-do's" cluttering our time), the more energy we can devote to the things that are truly important to us.
My goal is to find that elusive point of "just enough," whereby I own nothing more than that which meets my needs.
I believe that minimalism isn't about emptiness for the sake of emptiness — but rather making room to move freely, think clearly, and open ourselves to the beauty and wonder of life.
I'm the author of two books:
.
When I'm not writing, I enjoy hiking, doing yoga, and traveling. In the last few years, I've been fortunate enough to visit the following places: Paris, Amsterdam, Brussels, Iceland, Venice, Florence, Rome, Tokyo, Kyoto, Hong Kong, Singapore, Kuala Lumpur, Barcelona, Madrid, Koln, Copenhagen, Prague, Helsinki, Tallinn, Oslo, Stockholm, Wales, Glasgow, Edinburgh, Vienna, Budapest, Athens, Istanbul, Lisbon, Vietnam, Thailand, London and much of England.
My short term goals are to publish a third book, and make more of my own food from scratch (like bread, yogurt, and tofu). I'd also love to learn to snowboard, speak Japanese, and play pedal steel guitar.
My long term goals are to see as much of the world as possible, and make some kind of positive contribution to society (I'm not sure exactly how yet, but I'm working on it!).
By writing about minimalism, I hope to promote it as a lifestyle alternative. I want others who are dissatisfied with consumer culture to know they're not alone. I think it would be wonderful — for ourselves, for the Earth, and its other inhabitants—if we all learned to live with a little bit less.
Please feel free to contact me with comments, questions, and interview requests — I love to talk about minimalist living!