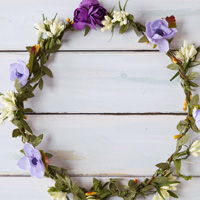 Hi everyone! Many of you have reached out this summer to say hello and ask where I've been (you're so sweet!). I've been right here, I've just been unplugged. Let me explain…
Remember my little Plumblossom?
Well, she's five years old now and starting kindergarten this fall. Time has flown by, and it's given this mama a wake-up call.
Last summer was a whirlwind of activity following the release of my book. I dropped my daughter off at camp each morning, then rushed home to do interviews and radio shows and answer countless emails. When she came home in the afternoon, I'd often set her up with an activity so I could squeeze in another phone call or two.
With these precious years slipping by so quickly, I wanted this summer to be different. I wanted us to have the kind of summer I had as a child—a summer before the Internet existed, before screens commanded our attention 24/7. So I dialed back my digital commitments, and woke up each day with no plan other than to spend it with my daughter.
Modern life seems to be all about "getting things done," so I'll tell you what Plumblossom and I have gotten done in the last few months.
We've made flower crowns and danced around our backyard. We've written stories about unicorns and dressed up as fairies. We've blown bubbles, played hopscotch, and decorated our sidewalk in rainbows of chalk. We've wandered our neighborhood, frequented our local park, and met many a new friend. We've made and consumed significant amounts of popsicles and lemonade, and eaten as many Oregon marionberries as humanly possible. We've put in long hours laying on the grass and looking at clouds. We've even, on occasion, been bored.
I'm having the most unproductive summer of my adulthood and it's been glorious.
So that's why I haven't updated my blog or Tweeted or Instagrammed in what seems like ages. Do I feel guilty? A smidge. But the memories of this summer are far more precious to me than gaining a few more followers on social media.
This summer, I gave myself permission to do less—and I encourage you to do the same.
As this season draws to a close, give yourself a little time off—if not from work, then from all those digital distractions that consume the rest of your day. For the next few weeks, turn off the TV, ignore Facebook, forget Twitter. Don't feel pressured to answer every email or keep up with the news.
Decluttering isn't just for cabinets and countertops; it's for all those minutes in your life that can be spent in a more meaningful way.
Remember those unplugged summers of your own childhood and relive some of those memories. And if you're so inclined, share them with us in the Comments!