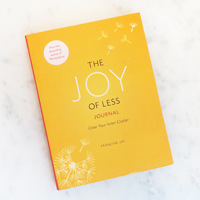 Hi everyone! I just wanted to let you know that Kate and Melissa over at Cohesive Home are giving away 2 copies of The Joy of Less Journal (Clear Your Inner Clutter)!
They've reviewed it in their latest podcast. Have a listen, and see if you'd like to start the New Year with a little inner decluttering:
Cohesive Home Podcast, Episode 23: Un-Goal Your New Year
The podcast also includes a fabulous discussion on "un-goaling." I love this concept! I've never been much of a goal-setter myself, preferring to let my life and work unfold more organically. Kate and Melissa offer a wonderful perspective on this, giving us the permission to pull back a little–focusing not so much on external measures of achievement, but rather our internal well-being.
I hope you enjoy the podcast and enter the giveaway. And as an FYI, if you'd like to purchase a copy of the journal, Amazon currently has it discounted to $8.75! (List price $14.95)