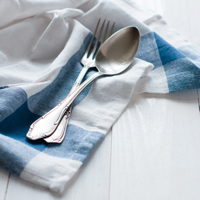 Happy fall, everyone! We're having the most gorgeous weather here in the Pacific Northwest, and I'm soaking in every last ray of sunshine before it starts raining (and raining and raining). I'm enjoying a few more weeks of wearing my One Shoe before I have to switch over to the rain boots…
So I'm writing a new book, and experimenting with minimalism on all kinds of levels. I posted last about my Unplugged Summer, a lovely exercise in dialing back my digital commitments. Basically, I faced my fear of being unproductive, and was rewarded in spades with a mother/daughter summer I'll always treasure.
But that's not the only minimalist thing I did this summer. I also experimented with eating—or to be more specific, eating less.
To be honest, I didn't do it for weight loss reasons. I'd read a study on how consuming fewer calories might lead to a longer life—and I was curious what it would feel like to consume fewer calories.
But being rather lazy about such things, I had no interest in actually counting calories or changing the foods I ate. Therefore, I went about it in a very unscientific way: I simply ate less. For each meal, I put roughly 2/3 of my normal portion on my plate (no measurements—just eyeballing it) and didn't have seconds.
In addition, I stopped snacking, and never, ever ate anything after dinner. If I felt hungry, I'd drink a glass or two of water instead. I also limited alcohol to special occasions and Saturday nights. If I had dessert, I'd have one-half of my usual allotment (half of a cookie instead of a whole one, one scoop of ice cream instead of two).
By not giving up anything, I never felt deprived. Instead, I appreciated what I did eat all the more. When my quantities were limited, I actually savored every bite—each meal became an event, instead of another task to rush through in my daily routine.
I still got to taste all that delicious food, just in a slightly smaller volume. And it's not really the volume that brings us joy, is it? To compensate for the smaller portion, I ate more slowly and mindfully, and felt a new gratitude for what was on my plate. And I can't tell you how much I looked forward (and still do) to that weekly glass of wine!
In the process, I faced my fear of feeling hungry. (I never knew I had such a fear, but why else did I snack or "fill up" at meals?) This summer, when my stomach growled, I didn't panic and reach for food—I sat with the feeling and experienced it without judgment. In other words, I didn't associate hunger with "bad" and rush to get rid of it; I thanked my body for its feedback, and vowed to enjoy every morsel of my next meal.
Since beginning this experiment, I've lost 12 pounds—they came off slowly and steadily over the last four months, without eating or avoiding any particular foods. (I'm still in the healthy BMI range for my height, albeit at the low end.) Will I live any longer? Who knows—but I'm continuing the practice, because I like the lightness and mindfulness that's come with eating less.
Now it must be said that I know how absolutely privileged I am to do this by choice. Sadly, too many people experience hunger by circumstances beyond their control; food insecurity is a devastating problem, afflicting 1 in 8 people in the United States alone (here's one way to help). I can't imagine the terror of being hungry when you don't know where your next meal is coming from.
But just because we have the means to eat as much as we want, should we? Or would our bodies (and planet) be healthier if we learned to feel satisfied with a little less? It would certainly reduce our risk of obesity-related illnesses; but could it also bring us more gratitude for our abundance, and more empathy for those without?
I don't have the answer to this. It's just something I've been pondering, and would love to know your thoughts. As with my Joy of One series, I can't really give a compelling reason for the things I do (and I'm certainly not suggesting that you do them, too). I simply like to experiment with living, and figure out how we can maximize our well-being and live harmoniously in the world.
So tell me in the Comments—is eating less something you would try? Could it replace all those fad diets? How do you feel about feeling hungry? Would you do it for reasons other than weight loss (philosophical, spiritual, environmental)? Has your minimalist practice influenced your feelings about food? Here's hoping for a lively discussion that'll take us where we haven't gone before… :)
[And no, my new book isn't about food or dieting; this "diet" is so simple, the book would only be one page! I'll be keeping much of it under wraps until publication, but will share some early tidbits with my email subscribers—so be sure to sign up for my email list to get a first look.]