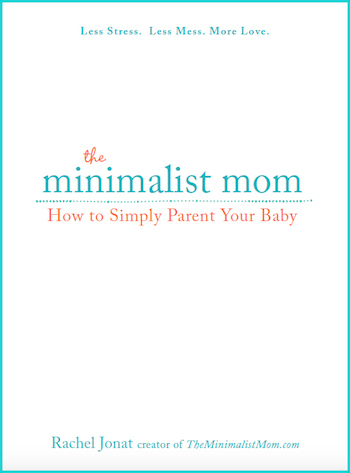 I rarely do book reviews and giveaways on my blog, but once in awhile, something so special comes along that I have to tell you about it.
Today, that something is a new book by my good friend and blogger, Rachel Jonat of theminimalistmom.com.
Rachel is my parenting heroine. Sometimes when I'm struggling to keep up with my blog and book-writing while caring for one child, I remind myself that Rachel is doing it (superbly well) with three. She's truly an inspiration.
And how does she do it? By living simply and setting priorities, two things that figure prominently in her new book, The Minimalist Mom: How to Simply Parent Your Baby.
Let me just tell you: I love, love, love this book. She offers advice on everything from how to prepare for baby's arrival, to how to efficiently manage your time once the little one is here. She provides valuable checklists on what you'll actually need for the first six months (hint: it's not as much as you think), and creative ways to avoid the avalanche of baby-related stuff. Rachel is raising three boys in a two-bedroom condo; she has a wealth of experience in minimalist parenting and her advice is spot-on.
It's only in hindsight that we realize how many of those registry "must-haves" were really unnecessary. How wonderful if someone had told us beforehand "you probably don't need this" or "wait to buy it until you do." Rachel's book provides so many valuable tips on parenting well with less stuff, even I wish I'd had it five years ago; it might have saved me from buying that baby swing that my daughter disliked with a passion. This book is truly a gift for all parents-to-be (and should be required reading for grandparents, too!).
In Rachel's words:
"This is a book about making the tough job of parenting easier by simplifying. Less stuff, more help. This is a book about being intentional about all that baby gear and not getting swept up in the tide of buying more new stuff at every turn. This is a book about figuring out what you really need instead of automatically buying what you can easily do without.

When you guard your space, money, and time when you have children, you'll simplify a lot of the challenges that new parents face. And when you make things simple, you make life a bit easier, a bit slower, and a lot more enjoyable."
So true! In my opinion, minimalism makes for an infinitely more serene and manageable parenting experience, particularly in that first year. And Rachel outlines everything you need to know in such pleasant, readable fashion; it's like getting advice from your best minimalist mom-friend over coffee.
So if you're expecting, know someone who is, or just want to prepare for the future, here's your chance to win Rachel's book! Two copies are up for grabs, in your choice of paperback or Kindle. The giveaway is open to residents of the US and Canada.
To enter the giveaway, simply leave a Comment below (just one comment/entry per person, please!). If you'd like to leave a Comment, but don't want to enter the giveaway, just note that in your post.
I'll keep the giveaway open until the end of Friday, July 29. I'll use the number generator at Random.org to choose the winners, and make the announcement next week. Please be sure to use a legitimate email address, so that I can contact you to obtain your mailing information.
Best of luck to all who enter!
UPDATE: The two winners of the giveaway, chosen via the number generator at Random.org, are Ritu Khare (commented July 26, 2016 at 8:29 am) and Kai (commented July 27, 2016 at 9:51 am).
Thank you to everyone who participated. I had no idea we had so many new parents and parents-to-be in our community here, and wish you much happiness (and some sleep) with your little bundles of joy! :)