Lightly: How to Live a Simple, Serene, and Stress-free Life
To be released on February 26, 2019! Preorder now from: Amazon, Barnes & Noble, Books a Million, Hudson, Indiebound, Target, Walmart, 800-CEO-Read, or HMH.
---
Do you ever feel like life is weighing you down? Like the stuff in your home, the to-dos in your schedule, the worries in your heart are too much?
Make "lightly" your mantra, one lovely little word to live by, and transform your life.
There's no shortage of decluttering books on the market, but Lightly is different. It goes beyond decluttering—far beyond—to uplift your thoughts, your actions, every moment and aspect of your life. Learn how to lighten:
Your Stuff: create a serene space with your favorite things
Your Step: consume less and live in harmony with the earth
Your Stress: be less busy and breeze through your days
Your Spirit: clear emotional baggage from your mind and heart
Lightly is like a recipe book for minimalism, designed so you can dip into it anytime for advice and inspiration. Whether you want to clear out a closet, free up some time, or get rid of a nagging guilt, you can turn to the relevant page for the help you need. Hand-drawn quotes and illustrations make for a beautiful book to keep by your sofa or bedside.
What's more, Lightly is a complete philosophy of life. When you're tempted by an impulse purchase, trying to resist a chocolate donut, or struggling to say no to another obligation, all you have to remember is one word—"lightly"—to boost your resolve and make beautiful choices. It doesn't get any easier than that.
Lightly makes minimalism more doable and delightful than ever. In just minutes a day you can cast off the weight, and glide through life more lightly and gracefully.
---
The Joy of Less: A Minimalist Guide to Declutter, Organize, and Simplify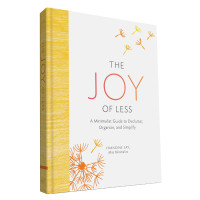 I'm thrilled to announce that The Joy of Less is now available in bookstores everywhere! :)
You can also buy it online at Amazon, Barnes & Noble, Powell's Books, Target, Walmart, IndieBound, Amazon UK, Amazon Canada, and The Book Depository (free delivery worldwide).
In a nutshell, The Joy of Less makes decluttering easy, enjoyable, and empowering. Really! My readers often tell me that they've put down my book in the middle of a chapter to clear out a closet or kitchen cabinet. Instead of finding it a chore, they become truly excited about decluttering. And many find that once they let go of the excess, the results are life-changing.
Here's what you'll find in the book:
an inspirational pep talk on the rewards of paring down
the STREAMLINE method: ten easy steps to achieve (and maintain) a clutter-free home
a Room by Room guide to more space and serenity
a family-focused program to help children and partners (even reluctant ones!) declutter
a look at how living lightly can help save the planet
The book will be translated into 20 languages (and counting)! I'm making an international bookshelf here, and will add foreign editions as they're released. From top left: Portuguese (Brazil), Spanish, Dutch, Polish, French, German
.