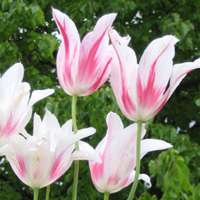 Ah, spring is in the air! My garden is full of tulips and daffodils, and the magnolia and cherry trees are in full bloom. After a long, cold, wet winter, it's wonderful to see the world in color again.
It's time to open the windows, let in the fresh air, and let go of the clutter.
To help you lighten up your home this spring, I'm giving away a Kindle copy of my latest book, 100 Essentials: Simple Kitchen + Capsule Wardrobe + Minimalist Home.
To enter the giveaway, simply leave a Comment below. If you'd like, tell us about one of your most versatile, hardworking possessions. (It could be a fabulous dress, an indispensable cooking utensil, your favorite handbag, gadget, etc.) I show you all of mine in 100 Essentials, so would love to hear about yours!
I'll keep the giveaway open until the end of Thursday, April 20, and use the number generator at Random.org to choose the winner. Please be sure to use a legitimate email address, so that I can contact you if you win.
Please note that this giveaway is for a Kindle (digital) copy. (If you don't have a Kindle device, you can read it with one of Amazon's free reading apps.) If you win, you'll need a US Amazon account to claim your copy.
Happy spring, and best of luck to everyone who enters!