In less than two weeks, the new edition of The Joy of Less will be released! (Will it really be in bookstores? Fingers crossed, and lots of love to those who have pre-ordered to make it happen…)
Anyway, I'm so excited and wanted to share some of the latest news surrounding the book. I'm putting it all in one update post—so if you're interested, it's all here, and if not, you won't be inundated with multiple posts on the subject. Sound good?
Okay, here we go:
*  The Joy of Less was in The New York Times Book Review on Sunday, March 27 (!!!). And not just online, but the real-life paper edition (see below). I think it's probably every writer's dream to be on the radar of the NYT, and I'm still pinching myself that they mentioned my 'lil ole book.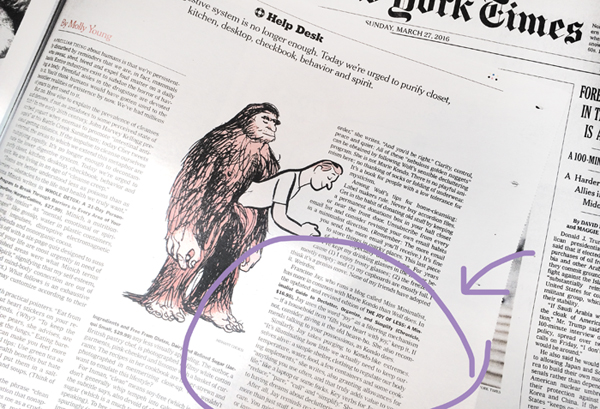 * The Joy of Less has been chosen as one of Amazon's Spring Reading Preview Books, and a Best Book of the Month for April! I'm truly honored, and so grateful to the Amazon editors for their support.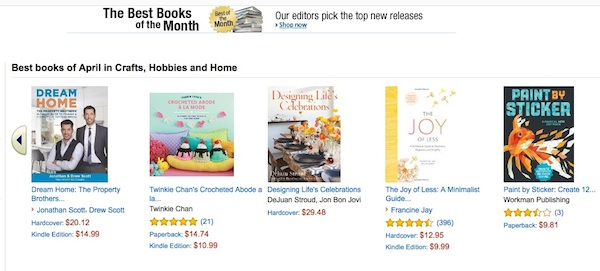 * The Joy of Less has been released in Brazil. You can now read all about the STREAMLINE method in Portuguese (how cool is that?). I've had a great time speaking to Brazilian reporters over the last month and, if you read Portuguese, you can check out this interview in HuffPost Brasil.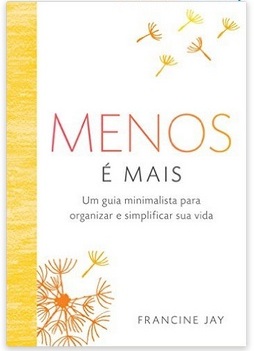 * The Joy of Less has been released in Spain, and is available throughout the world in the Spanish language. I was thrilled to be featured in the magazine Objetivo Bienestar (that's my Spanish book cover on the right!):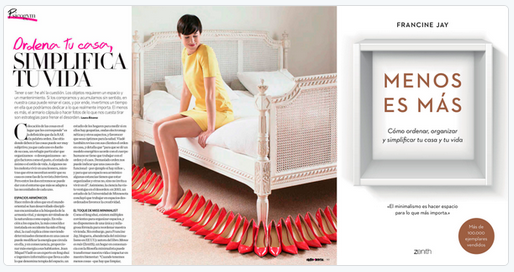 * The Joy of Less will soon be released in the UK. Talking to the British press has made me nostalgic for my time in London, and I really enjoyed doing an interview with Psychologies magazine (you can read it in their May issue). Also, here's something fun: my British publisher, Abrams & Chronicle, has chosen The Joy of Less for their April Reading Challenge and are giving away 3 copies (to UK/Europe residents) before the book is available in stores!
* And finally, a reminder that if you pre-order the book (from anywhere), don't forget to fill out this form. I'm deeply grateful for your support, and would love to give you a thank-you bouquet of a dozen decluttering printables. I use them in my own home, and find such visual reminders to be so effective while STREAMLINE-ing.
That's all for now—thank you for listening to my horn-tooting. I promise I'll try not to do too much of it, but you've all been with me on this journey, and I want to share and celebrate these exciting things with you! I can only hope that the rest of the world embraces this book as you have, and discovers how wonderful a minimalist life can be. :)