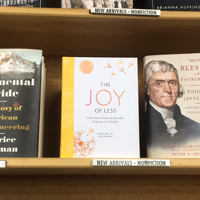 Today, the new edition of The Joy of Less is being released into the world!
I originally wrote this book because so many of you asked me for a how-to guide on decluttering and minimalist living. I thought it'd be great if a few hundred people read it; never did I dream that you would tell your friends about it, and they would tell theirs, and it would grow to touch the lives of so many people.
And thanks to you—and all your pre-orders—The Joy of Less is now available in bookstores worldwide! Thanks to you, I got to experience a moment I'll treasure forever: I took my daughter to our beloved Powell's Books, where she spotted The Joy of Less on the New Arrivals shelf and shouted excitedly, "There's mommy's book! There's mommy's book!"
I'm still tearing up with happiness just thinking about it.
Anyway, wow…this is such a special day, I don't even know what to write. So I will share with you the quote I used in the opening of this new edition:
Let go

like a child blows a dandelion.
In one breath,

an exquisite lightness
and immeasurable joy.
I chose the dandelion theme for three reasons:
First, it's my daughter's favorite flower. Our walk home from school these days—which should take about 15 minutes—is usually closer to an hour, as she has to pick and blow every dandelion we encounter along the way.
Second, I think it's the perfect analogy for letting go—of our possessions, our expectations, our burdens, etc. I see the joy in my daughter's face as she scatters those seeds to the wind, and it's just how I feel when I've released stuff, or emotions, or commitments that have been weighing on me.
And third, I hope the message of minimalism spreads like those dandelion seeds on the cover—carrying a promise of freedom, lightness, and joy far and wide.
I believe we all have a "cosmic task," or purpose in life, that not only fulfills us personally but furthers harmony in the world. Spreading the joy of less is mine—and perhaps it's yours, too. If so, I'd love if you'd join me in this effort:
Give or lend a copy of The Joy of Less to someone who could use it (or simply tell them about it).
Write a review on Amazon, Goodreads, or your favorite bookseller's website. The more people hear that decluttering worked for others, the more likely they'll be to give it a try!
Spread the word on your social networks. I've put together a page with inspirational quotes and images you can share on Twitter and Pinterest with just a click.
A few of my wonderful friends in the blogging world are spreading the word too, by giving away copies of the new edition! Stop by their sites for a chance to win:
I think of this as our book, so let's celebrate together as it makes its way through the world! Tweet or Instagram photos of it in your house or hometown or local bookstore (with hashtag #joyofless)—or send me a pic and I'll share it here. I'm really curious to see where it turns up. And I'd love to see the international editions, too!
Again, I'm so grateful for all your support—both leading up to this moment and going forward. I'm keeping the printables offer open for a few more days—so if you buy the book this week, be sure to fill out the form to get your special thank-you! Hugs, kisses, and lots of love to you for sharing this day with me! ♥