I can't believe the new edition of The Joy of Less will be published next week! (Where has this month gone?)
Today, I just want to post a little reminder that if you pre-order the book before next Tuesday (April 26), I'd like to give you a dozen decluttering printables to thank you for your support.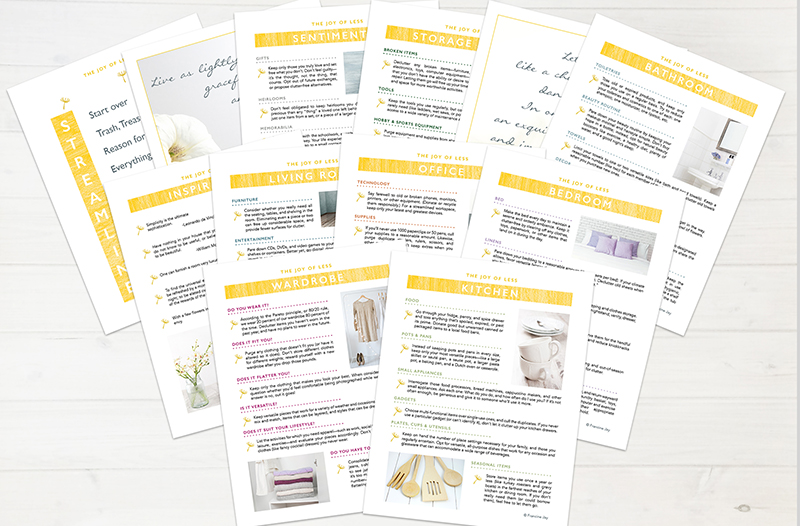 I had such fun making these! I'm a very visual person—a photograph of a beautifully-pared down closet, or a small collection of kitchen essentials, inspires me so much.
And I also love when information is summarized. There's just so much to digest these days, that I find it very helpful to have bite-sized tips at the ready. When I'm standing in front of my wardrobe, I like to have my criteria (Does it fit? Does it flatter? Does it suit my lifestyle?) right in front of me.
That's why I made these tip sheets—to serve as reminders and encouragement as you go about your day. You don't have to be in "decluttering mode;" you may simply be cooking dinner, and a quick glance at the Kitchen tips may inspire you to purge that duplicate peeler you come across. Or you might skim the Bathroom sheet while brushing your teeth, and decide to scale back your beauty products.
And guess what else? They're gentle, ever-present reminders for your family members. Instead of nagging and pleading, let these printables communicate the joy of less for you—sometimes the idea is more readily embraced when it comes from a third party! And if you can't get your spouse or partner to read the book, these summaries are a quick, easy, and subtle way to get the info across.
As I mentioned before, your pre-orders are a powerful show of support—they'll help get The Joy of Less into bookstores, and its message out into the world. The least I can do to thank you is offer these printables—an extra special boost for your decluttering efforts, and a visual reminder of how beautiful our lives can be with less stuff. But please know that my gratitude goes far beyond this, and I treasure each and every one of you who've helped me in this effort.
If you'd like to pre-order the book, it's available online from Amazon, Barnes & Noble, Powell's Books, IndieBound, and your local independent bookstores. You can also pre-order from Amazon UK, Amazon Canada, and The Book Depository (free delivery worldwide).
And after you order, don't forget to fill out the little form below, so I can send you a link to the printables:
* required field