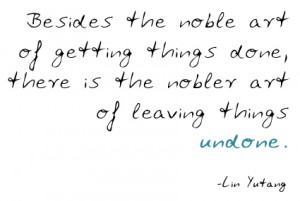 A few weeks before I had Plumblossom, a wise friend told me: "In those first months, don't worry about getting things done. Just be with your baby."
Oh my goodness, what wonderful advice! Before then, I couldn't imagine not writing weekly blog posts, answering emails within two days, or letting the dishes sit in the sink. But with a huge, new responsibility, I just couldn't do everything anymore. And guess what? Life went on, and the world didn't stop spinning. It took my life being turned upside down (in a good way) before I could come to terms with leaving things undone.
So let me shorten this advice so it applies to everyone: "Don't worry about getting things done. Just be."
It's a great thing to practice as summer winds down, and we savor the remaining days of warm weather and daylight after dinner.
Recall those carefree, childhood summers—run barefoot in the grass, lounge on your porch, chase fireflies. Read a novel. Take an afternoon nap. Have a leisurely cup of tea.
Above all, give yourself permission to be, rather than do.
With a new house, my husband and I have a million things To Do: not just everyday chores, but improvements, repairs, and finishing touches. We'd intended to knock some of these off the list last weekend. But in the midst of a hot summer, we had some surprisingly mild weather. So what did we do? Both Saturday and Sunday, we took Plumblossom on a relaxing, five-mile walk through our local park. Everything else? We left it undone.
The trim that needed painting in the sunroom? Undone.
The roof that needed clearing of branches? Undone.
The shower curtain rod that needed to be installed? Undone.
The blog post that needed to be written? Undone.
The floors that needed to be mopped? Undone.
These things will get done eventually (and some, like the floors and post, already have). But we decided that that weekend we would be, not do. And it was beautiful.
So from now on, instead of stressing about the size of my To Do list, I've decided to take pride in the size of my Undone list. For it means I've minimized my "busyness" in favor of the more important stuff in life: spending time with my loved ones, enjoying nature, being in the moment.
What will you leave undone today?
{If you'd like to learn more about minimalist living, please consider reading my book, The Joy of Less, A Minimalist Living Guide, or subscribing to my RSS feed.}