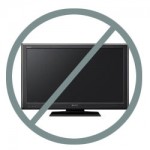 Three years ago, my husband and I gave up our television when we moved overseas. At the time, I had no idea how we'd feel about its absence, or whether or not we'd replace it upon our return. Well, I'm happy to report that we love being TV-free, and have no intention of obtaining another.
In fact, we recently traveled to Texas for a family wedding, and during the five days in our hotel suite never once turned on the TV (we didn't even notice its presence until the third or fourth day!).
Here's a quick rundown on how tuning out the tube has enhanced our lives:
More silence. Without the TV as background noise, our home is incredibly peaceful. It's much easier (and more pleasant) to hear the little coos of my baby girl without headlines blaring from CNN (I'd like her to grow up without having to talk over the TV).
More serenity. Reduced exposure to news (particularly that of a violent or worrisome nature) and political ads has led to less stress and anxiety in our household. We stay informed via the Internet, reading only the stories in which we have interest.
More satisfaction. Since our house is commercial and celebrity-free, we're not exposed to aspirational goods or lifestyles. We're perfectly happy with what we have, and how we live, and never want for bigger/better/different/more.
More space. It's been wonderful to not plan a living room around a television, or devise a way to mount, contain, hold, or hide such an (in my opinion) unattractive device.
More focus. Without the distraction of a TV, we can pursue hobbies, conversation, and playtime with our daughter while being fully present in the moment.
More holiday spirit. Back when we had a TV, the onslaught of commercials—whether they be hawking cashmere sweaters for Christmas or jewelry for Valentine's Day—would make me tired of the upcoming holiday before it even arrived. Now that such advertising no longer enters our lives, we enjoy the season and celebrations so much more.
More time. According to this New York Times article, the average American watches 34 hours of television per week. 34 hours! (I had to triple-check that to make sure I read it right.) So by not owning a TV, we gain more than a day's worth of extra time every week. :)
I think our no-TV experiment will become even more interesting as our daughter grows up. How will she fare without Sesame Street, Saturday morning cartoons, or Disney princesses? (I'd like to think just fine.) I envision for her a childhood of playing outside, chasing butterflies, drawing, reading, and creating—even if it means not understanding every pop culture reference made by her peers. Even the American Academy of Pediatrics recommends no TV for children under 2, so I don't think our lack of Baby Einstein videos is doing her any disservice.
Of course, and as always, I must add the disclaimer that this is what works for us. By no means am I suggesting that everyone should give up their TVs, or that you can't be a minimalist if you own one. It's just another thing that our household is better off without—and I'll continue to provide updates on our decision as the years go by.
{If you'd like to learn more about minimalist living, please consider reading my book, The Joy of Less, A Minimalist Living Guide, or subscribing to my RSS feed.}