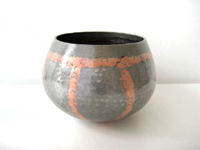 It may come as a surprise to some, but not all of my possessions are uber-practical. Some commemorate my travels, give me pleasure to look at, or remind me of how I'd like to live.
This monk's bowl is a recent acquisition, purchased on my December trip to Thailand. In Bangkok, there's a tiny neighborhood called Soi Ban Baat (Monk's Bowl Village), where residents have been making alms bowls for monks for generations. Although most such bowls are now made in factories, a few artisans continue the tradition, beating out the bowls by hand. They're made of eight strips of metal, to symbolize the Eightfold Path of Buddhism.
While meandering around (ie. getting lost) in Bangkok on New Year's Day, my husband and I happened upon one of these artisans. She was hammering out bowls right in an alcove off the street, and looked as if she'd been doing so her entire life. Fascinated, we stopped to watch her work. After a while, she came over to chat with us (her English, though limited, was much better than our Thai!), and offered to sell us one of her bowls.
Now, I've traveled to over thirty countries in the past few years, and I rarely ever bring back souvenirs. I'm perfectly content with my digital photos, and a handful of foreign coins. Something has to really speak to me to gain a ride back in my tiny bag. And this something did.
I'll tell you why: on January 1, it's Thai tradition to spend the day visiting Buddhist temples and making donations of food, necessities, and money. It's considered both charitable, and a way to ensure happiness, health, and good luck for the coming year. So being in Thailand, that's exactly what we did.
On approaching one of the temples, we heard a persistent clanging noise coming from inside. When we entered, we discovered the source of the sound: 108 metal monk's bowls stood in a long row, and a line of people filed past them, dropping a coin into each one (108 is an auspicious number in Buddhism). Intrigued, we took our places in line and participated in this lovely ritual. I thought it was a beautiful way to symbolize the act of giving, and set a tone of generosity for the coming year.
So, back to Soi Ban Baat… With that experience fresh in my mind, I took the unusual step of acquiring a souvenir. Not only did I appreciate the beauty of the bowl itself; I loved the Buddhist ideals it represented, and welcomed the opportunity to support this artisan's way of life.
But don't worry—it won't become a dusty knick-knack. In the same spirit as the Thai temple, we're using it as a reminder that giving should always be at the forefront of our lives: it's collecting our spare change and spontaneous "donations," that (when full) will go to our charity of choice.
The point: minimalist living doesn't mean swearing off every non-practical possession. In fact, the beauty or symbolism of a material object can be a positive influence on our lives. It can bring back memories, delight our senses, and remind us of our ideals and values. It's simply a matter of being mindful of our choices.
I'd love to know what non-necessities have earned a place in your lives–please share in the Comments!
(This post is part of my "100 Possessions" series, in which I explain why each item I own deserves a place in my minimalist life.)
{If you'd like to learn more about minimalist living, please consider reading my book, The Joy of Less, A Minimalist Living Guide, or subscribing to my RSS feed.}