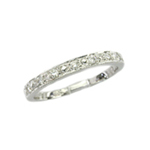 This week, Tammy of Rowdy Kittens wrote a wonderful, very thoughtful post about her wedding ring. I liked it so much, I was inspired to write one about mine.
When my husband and I married five years ago, we were already well into our minimalist journey. Instead of a big, expensive ceremony, we opted to elope to Iceland – I packed my dress in a standard ziplock bag, and we sent out postcards from Reykjavik announcing our nuptials. It was a beautiful, romantic experience; and best of all, the event left us with no debt or excess possessions.
Accordingly, I wanted my wedding ring to reflect our minimalist philosophy – so I chose a simple band with seven tiny diamonds across the top (pictured at left).
Instead of the big, flashy, multi-carat rings featured in magazines, I wanted slim, subtle, and elegant. I wanted the kind of ring I'd feel comfortable wearing all the time: while traveling, hiking, walking through urban neighborhoods, or riding the subway at night. I wanted the gold to be recycled, the diamonds to be conflict-free, and the piece to be handcrafted rather than mass-produced. I wanted a ring that would be timeless enough in style, and durable enough in material, to last me the rest of my life.
But mostly, I wanted a ring that reflected my ideals: meeting my needs with just enough, rather than the most I could afford.
(Of course, one can argue that no wedding band would be the "most minimalist" choice. However, my philosophy has more to do with owning a few carefully-chosen items than nothing at all.)
I wanted my choice of wedding ring to be consistent with the other consumer choices we'd made: like buying a cozy 1920s bungalow instead of an outsized McMansion; driving small, fuel-efficient cars instead of luxury models or SUVs (and eventually switching to public transit); opting for well-made, classic clothing over trendy or logo-laden items; and supporting artisans and small businesses instead of big brands.
Our choices may have seemed modest, frugal, or eccentric to some – yet they made us perfectly happy. We never found need for bigger, better, or more: our little house kept us as warm and dry as any mansion; our cars conveyed us from point A to point B without fancy hood ornaments; and my tiny diamonds sparkled just as brilliantly as one-carat stones.
In essence, we chose to "right-size" our consumption instead of "super-size" it. This strategy enabled us to live well, while achieving our dream of moving to the UK and traveling the world.
Sure, a wedding ring is a consumer item; there's no doubt about that. However, it satisfies my criteria for inclusion in my life: it's useful (I wear it everyday, and it does a superb job at deterring unwanted advances ;-)), it's beautiful, and it's meaningful. And when I see it on my finger, it reminds me not only of my commitment to my husband – but our joint commitment to the minimalist lifestyle that's brought us such happiness.
{If you'd like to read more about minimalist living, please consider buying my book, The Joy of Less, A Minimalist Living Guide, or subscribing to my RSS feed.}