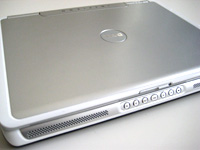 Last year at this time, I'd never heard of the term "digital sabbatical." And I had no reason to: while I spent my days in front of my computer (writing, blogging, working), I rarely had need to log on during the evenings or weekends.
As the year progressed, however, my digital workdays grew longer: there were more blogs to read, emails to answer, tweets to write, etc, etc. I'd find myself online late into the night, or on a Saturday or Sunday, answering blog comments, working on projects, or simply keeping up with daily correspondence.
Sometime this summer, I realized my life was out of balance. Although I'd cleared my life of physical clutter, I'd taken on far too many digital commitments – and unfortunately, they were affecting my productivity, my concentration, and my sense of peace and serenity.
At first, I solved the problem by taking digital sabbaticals. I'd completely unplug for an evening, a weekend, or whenever I traveled. However, while I enjoyed being offline for a spell, I felt like I was constantly playing catch-up when I logged back on.
I realized that, rather than avoid my digital commitments, I needed to minimize them. It's still a work in progress, but here are some of my efforts towards that end:
1. I'm resisting joining any new social networks. That's why you won't find me on Facebook, Foursquare, or anything that sucks me further into the world of 24/7 connection.
2. I've ditched my RSS reader. Instead, I check out my favorite blogs when the mood strikes. While it's convenient to have everything in one place, it made me feel obligated to read it all.
3. I stopped answering every blog comment. I read and appreciate each one, but I just couldn't keep up with both responding and writing new content – unfortunately, something had to give.
4. I've become more selective about projects I take on. While I'd like to say yes to everyone, I've found I prefer to work on just a few things at a time, and give them my full attention and effort.
5. I'm coming to terms with the fact that when you receive hundreds of emails each week, you can't answer every one.
6. I turned off my news alerts. I don't need to know about every article that's published on decluttering or minimalist living.
7. I check Twitter once a day, and tweet only a handful of times each week.
It's a whole new decluttering challenge for me, and in some respects, more difficult than disposing of physical stuff. I look forward to exploring these issues, and would love to hear how others have pared down their digital commitments.
{If you'd like to read more about minimalist living, please consider buying my book, The Joy of Less, A Minimalist Living Guide, or subscribing to my RSS feed.}