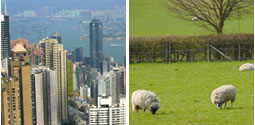 I've lived in cities most of my adult life, and have found them to be quite conducive to my minimalist lifestyle.
For example:
* Being close to large, public libraries eliminates my need to buy books and DVDs; I'd much rather enjoy something once and return it, than have it sit on my shelf for eternity.
* My proximity to museums, cultural institutions, and other venues means I don't have to outfit my apartment with "entertainment" options, like a big screen TV or video games.
* I have no need to purchase art, as both the Tate and the National Gallery are just a Tube ride away; I'd prefer to stroll through galleries of masterpieces than hang something on my walls.
* I consider the city parks to be my "backyard." Not only are they spacious and beautifully maintained, I don't need to pick weeds, mow the lawn, or own a garage full of equipment.
* Public transit enables me to get by without a car (and pretty soon, my husband will be able to do the same).
That said, last weekend my husband and I stayed on a farm on the Isle of Wight (located off the southern cost of England). We spent our days walking its cliffs and downs, and its pastures and meadows. We lounged in fields of wildflowers, and picnicked on ledges overlooking the sea. We sat outside our little cottage each night, gazing at stars and listening to the waves.
I began to ponder the minimalist benefits of living in the country:
* Being entertained by the sights and sounds of nature
* The ability to grow my own vegetables instead of buying them
* The peace that comes from being far removed from shopping centers, chain stores, and advertising
* The relationships formed with neighbors, which often allow for barter and "non-consumer" exchanges
* The potential to live off-the-grid, and use more sustainable energy sources like wind and solar power
Certainly, I think city living enables one to get by with owning less stuff; so if you define minimalism as having the fewest possessions possible, it's the clear choice.
However, country life offers more possibility of being self-sufficient; so if you define minimalism as buying as little as possible (including food and utilities), it's an attractive option.
Personally, I think minimalism is what you make of it, and can be practiced just as well in urban and rural environments. It's all a matter of having just "enough" to meet your needs—whether that's season tickets to the opera, or a handful of goats and chickens. For now, my place is in the city; I enjoy the culture, the diversity, and the overall vibe. Yet I wouldn't rule out a little farmhouse should we someday choose to settle down.
So do you prefer the country or city? And do you find one more conducive to a minimalist lifestyle than the other? Let me know in the Comments.
{If you'd like to read more about minimalist living, please consider subscribing to my RSS feed, or signing up to receive new articles by email.}